Case study
Sharon: I'd wake up in a cell not knowing what I'd done
From:

Part of:

Published:

12 December 2013
The DWP's Work Programme and Blue Sky, who focus on the employment of ex-offenders, helped Sharon into work which changed her life around.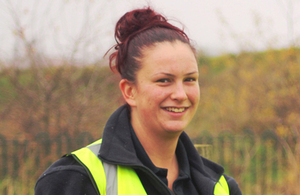 Sharon was young when domestic violence tore her family apart and she began drinking when her parents split up.
I was so angry. That's when I started drinking bottles of vodka. I didn't care about anyone so I was out fighting all the time.
From the ages of 16 to 27 Sharon was continuously in trouble with the police, regularly being arrested for drink-related offences. She also felt unable to get a job because of her criminal record.
At 27, Sharon was convicted of Actual Bodily Harm. She knew it was time to change.
I was binge drinking for 4 days in a row, I'd wake up in a cell not knowing what I'd done… and they said to me 'you're going to wake up one day having killed someone and not realising what you've done', and I thought 'I don't want to do this anymore. I need to sort myself out.'
After a long spell of unemployment Sharon was enrolled on the Work Programme at her local Jobcentre Plus. She was then referred to Blue Sky, a social enterprise that bids for local maintenance and waste management contracts, employing ex-offenders to do the work.
Blue Sky Chief Executive Officer, Andrea McCubbin says:
Our sole focus is on the employment of ex-offenders, to challenge society's perceptions about ex-offenders in the community and what they're capable of and putting the brakes on the cycle of re-offending. We look for low-skill, entry-level jobs, where there are no barriers for offenders to getting work. These are also the sorts of jobs that are typically filled by agencies so there's no displacement of local labour.
Blue Sky provided Sharon with a package of support including skills development, personal mentoring, help with housing and support into further employment. Critically for someone like Sharon, most of the people providing the support have criminal records themselves.
Andrea says:
There's nothing more motivating than seeing other ex-offenders around you who've faced the same challenges, getting on, being promoted through the organisation, even to director level. Seeing is believing.
The DWP's Work Programme also helps to provide funding to give that additional support that Sharon needs to stay in employment.
Sharon says:
"Blue Sky is a bit like a family. When you're doing agency work, you've got no support – you just go, do your work and that's it. But here, if you've got problems, they'll listen to you and if they can help, they will.
She currently sub-contracted as a Street Cleanser for Hillingdon Council, and is glad to be working.
Andrea finds Sharon's attitude is shared by many of the people that work for Blue Sky:
They're motivated, they're hard-working, they're reliable… they're a good workforce to have around… because a job to an ex-offender is so much more than a pay packet.
Sharon's also glad to have the chance to make her family proud by making good. She's looking to develop further skills, and is learning to drive so she can pass her test, funded by Blue Sky.
I just feel so much better about myself, I'm not getting depressed any more, I'm not even thinking about drinking any more. Honestly, it's great. I'm so happy… I wouldn't want to be unemployed again now. I want to prove that I can do this, I'm just so grateful that they gave me the chance.
Document information
Published: 12 December 2013