Case study
Lyn Manson, Southport: Work Programme real life story
From:

Part of:

Published:

22 August 2014
Five brave women transform their lives though Work Programme.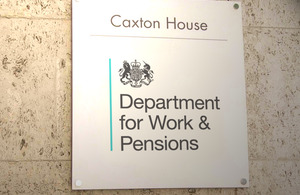 A group of ill and disabled Southport women who were brought together by the Work Programme are putting their own troubles behind them to run a charity shop for Armed Services veterans.
The 5 women, aged 51 to 61, admit they were terrified and socially isolated when they were referred to the back to work programme. They have stunned friends and family by working through their issues to get their new charity venture up and running and all say it has transformed their lives, giving them the confidence and purpose they have been lacking for so long.
The Mayor and Mayoress of Sefton, Councillor Kevin Cluskey and Mrs Linda Cluskey will be among the guests at the official opening of the group's Byng and Buy store in Cambridge Walks. This sells second hand and home made goods in aid of the British Legion's Byng House veterans' holiday home on the Promenade and Combat Stress, which supports ex-Servicemen and women with mental health problems.
The shop has been given to them rent-free by the charities Making Space and Healthy. Byng and Buy volunteer Lyn Manson's husband struggled to adjust to civilian life when he was released from the Army after 23 years, resulting in a painful divorce.
Lyn was also diagnosed with ME, a heart problem and then lost the sight in one eye in a freak accident six years ago on a fitness machine.
Perhaps unsurprisingly, she was diagnosed with anxiety and depression and was out of work for nine years. Lyn said "I used to be very active and I was very unhappy being at home on my own. This was just what I needed to get me back out there and bring me back out of myself.
"I feel very proud of the girls. We've all had our problems but we have come together in the most amazing way to do something good and that has given us all an enormous boost."
The Work Programme, now in its third year of operation, provides tailored support for unemployed customers who need more help to undertake active and effective job-seeking.
Document information
Published: 22 August 2014