Case study
Henrietta, Crawley: Work Programme real life story
From:

Part of:

Published:

22 August 2014
Henrietta now running her own nursery business after overcoming barriers to employment through Work Programme.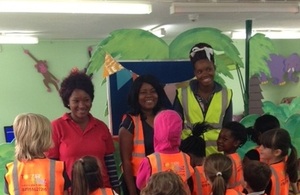 Henrietta was referred to Work Programme in September 2011; she had been unemployed for 4 years prior to her referral, after being made redundant in her last role. Her self esteem was very low and she had lost her motivation and confidence.
When first referred, like many customers Henrietta was initially sceptical about how Work Programme would benefit her. But after her induction and meeting her consultant she felt more positive about moving forward.
During her four years of unemployment Henrietta came across many barriers. She was successfully gaining interviews within the childcare industry but on feedback from the unsuccessful interviews she was getting similar responses that she was over qualified due to her prior management, work history and experience. She also had the impression that her age was seen as a negative when compared to younger newly qualified applicants.
Henrietta attended a self-employment course for anyone thinking about self-employment as an option, or for those who are further along and need support with creating a business plan, or advice on marketing the business or managing their tax.
After completing the course Henrietta found herself more determined to set up her own nursery/childcare facility in the Crawley area and started to research these plans.
In June of 2013 Henrietta was successful in her goal and signed off benefits to open and work in her own nursery. TOTZ2TEENZ childcare is based in Ifield Community Centre, in her local town of Crawley.
Over the last year her business has grown from strength-to-strength and she has just been approved to increase the number of her children within the nursery from 35 to 60 and she is also expanding her business to be able to support children with learning and behavioural difficulties.
The Work Programme, now in its third year of operation, provides tailored support for unemployed customers who need more help to undertake active and effective job-seeking.
Document information
Published: 22 August 2014