Speech
Africa Security Speech
Grant Shapps speech at the Royal United Services Institute on Africa and security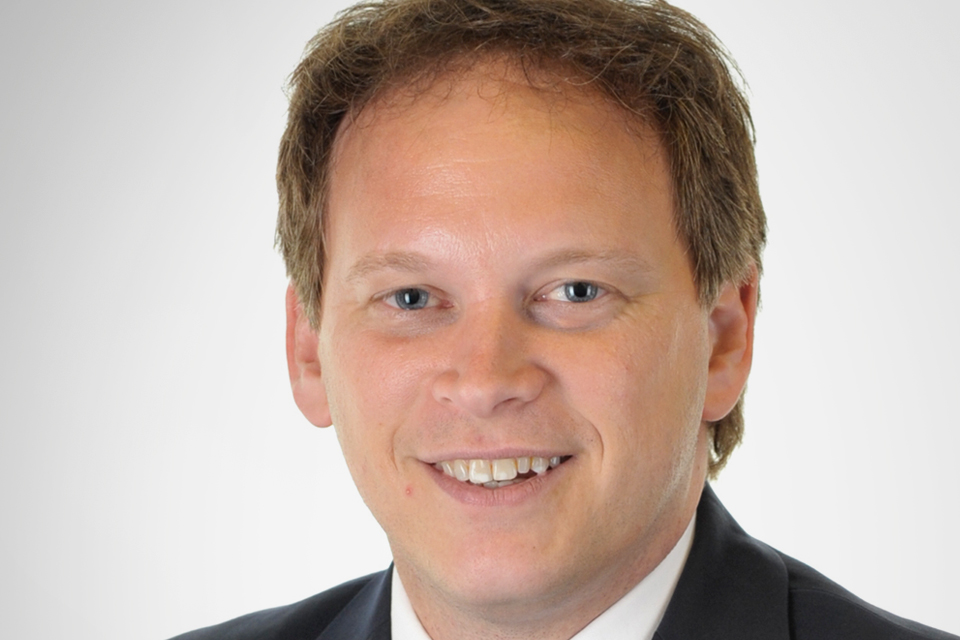 Her Excellency Dr Zuma, Chairperson of the African Union Commission, likes to cite an astonishing fact: By 2025, a quarter of the world's young people will be Africans.
Let me say that again. In just 10 years' time, a quarter of the world's young people will be Africans. Not Chinese, not Indian, African.
What is in store for this vast swathe of humanity? What challenges will these young people face as they pursue education, seek work, and try to build a life for them and their families?
On Tuesday I visited British troops training Nigerian Armed Forces in Kaduna, readying them for the fight against Boko Haram.
But imagine being a young man in Northern Nigeria looking for work. The market places are empty, there's no social protection and you're in desperate need of a job. This is the conducive background against which Boko Haram recruit.
Or imagine being a young girl outside Juba, trying to finish school. You're one of the lucky ones – your parents are alive, you have some access to education and you're fit enough for the daily 10 mile walk to school. But there is no electricity, no streetlights - and in a country where peace is fragile and the militias are many, returning from school after dark is a massive risk. One way or another, you drop out.
Or perhaps you're a teenager in eastern DRC. You haven't had much of a childhood - since armed forces came to your village and demanded every family give up a child, so you've only known fighting in the bush. You desperately want to leave but are told terrible things about the demobilisation programme. You can't see a way of getting away… and at least with your captors you're given daily food.
Wind forward to 2040, and there will be 1.1 billion Africans of working age.
This generation of young people will be better connected than ever before and they will understand opportunity in other parts of the world.
They will aspire to better their lot. To feel safe. To get a decent job. And it's in our interest to help them find that work.
Because we do Africans no favours at all when we attract their best and brightest away.Whether in Nigeria, South Sudan or the DRC – as across the world – personal stories, peace and prosperity are always inextricably linked.
We must work towards a future where everybody will be able to live a dignified life, free from violence and exclusion, and be able to contribute to a prosperous future for themselves and their countries. And so the Global Goals agreed at the UN a couple of weeks ago are an important next step. But the job is by no means done, and implementing these Goals will now be the key task.
And if the nation-building attempts of the past decade have taught us anything, it is surely that development must rest on real and sustainable peace.
That's why at UNGA the Prime Minister announced that Britain will be significantly increasing our commitment to UN Peacekeeping Operations.
In South Sudan, we will send up to 300 troops to help the UN support a very fragile but vital peace. Meanwhile in Somalia, we will deploy UK military expertise to provide essential logistical and engineering support and training.
Alongside the FCO and MOD, DFID is strengthening its country and regional strategies across Africa. These focus on promoting the international system; driving sustainability and inclusive development; and supporting peace and security.
And at Valletta next month, the UK and the EU will work alongside key African countries to tackle issues around migration. The complexity of the challenges to peace and stability in Africa demand that we address them in a truly comprehensive way.
The UK's existing support to Africa is crucial – it strengthens basic service delivery, fortifies capacity and accountability, it creates jobs and economic opportunities, and builds resilience to cope with shocks and disasters. I get to see a lot of this taking place in Africa.
But our challenge is to ensure the youth on the streets feel the benefits of this aid. The men and women I've met in Nigeria, Rwanda, Malawi and many other places are clear that they don't want handouts, but to feel safe, find employment, start small businesses, and know that when they sell their goods or services, they get a fair price without corruption.
They want opportunity, and the ability to determine the course of their own lives.
Long term security requires young people in gainful employment, rather than in the hands of extremists or worse still the hold of a smuggler's boat.
It means helping their home countries develop, so there's no reason to leave in search of opportunity elsewhere in the world.
It means strengthening what the Prime Minister refers to as the "Golden Thread", whose fibres comprise rule of law, good governance, and economic success.
And it means continuing to combat violent extremism no matter where it exists.
Now, serving as both a DFID and FCO Minister, I know that these individual strands – development, governance, prosperity, security – are strongest when tightly woven.
So we should always ensure that policy integrates much better and more tightly across Whitehall.
Because these are the fundamentals underpinning the stable societies which are the bedrock of secure states.
This is detailed, painstaking and often frustrating work. Often two steps forward, one step back.
When I visited Somalia in the summer, I saw this delicate process first hand.
The British Embassy in Somalia sits within the compound at Mogadishu International Airport – the only place we can reasonably secure.
We're the only EU country on the ground, while the Americans operate their Embassy from Nairobi.
A stark reminder of the fragile reality of life there was news of a car bomb that exploded just outside the compound the day after I had left; 15 Somalis killed.
But progress is being made…
And Britain has altered the course of that country's future.
Indeed, the Somali President came to visit me at the compound on his way to the inauguration of Galmudug, the newest state to sign up to the Federation of Somalia.
In fact, so key is Britain's role in helping to rebuild this country, that the inauguration of this new state itself had been altered to fit around our delegation.
A new state making up the Federal map, a constitution being negotiated, further elections in 2016. Steps forward. Progress…
But that doesn't mean it's easy. Far from it.
As I discovered, travelling across Mogadishu is a major operation: guns, close protection, a fleet of armoured cars. Every meeting requires hefty security, meticulous planning, patience without limits.
Nothing is easy. Even small victories – making it to a meeting, accessing the internet – are hard won. But these logistical problems are but nothing compared to the challenges faced by every day Somali citizens.
Outside the compound I saw encouraging signs of a new and thriving economy. The determination of the Somali people is evident in the bustling streets and markets.
As we entered a village, I noted four tall posts in the ground. Perhaps our equivalent of maypoles, I briefly considered. But no, these were the killing posts used for public executions by Al Shabaab terrorist firing squads. A reminder of how far there is to go.
Yet, with the support of the UK and the international community, the Somali government has made significant progress: three years ago the brave troops of the African Union's AMISOM mission were fighting on the streets of Mogadishu… today they and the Somali National Army control almost every town and 80% of the country.
But as the Somali Government knows, there's still work to do. We've had 800 years to build the rule of law brick by brick in this country; the Somali authorities are building theirs almost overnight. We are right by their side.
So we must encourage and support political reconciliation. Education. Rising standards of living. The establishment of inclusive and fair institutions. Freedom and choice. We must offer the younger generation the chance to find jobs, build a future, and raise their own families.
Innovative solutions have the potential to make a massive impact on daily lives, as was clear when I discussed energy access in Somalia with the Prime Minister.
It's incredible: two-thirds of Africans have no access to electricity in their own homes.
How can we hope to build economies and societies that underpin prosperity, growth and security, if people lack access to the most basic of human requirements in the modern world?
On a continent with an enviable amount of sunshine, this shouldn't be a problem that is difficult to fix.
So next week I'll launch DFID's Energy Africa campaign here in London at Facebook. In attendance will be Kofi Annan, Madame Zuma and other leading Africans. Our goal is to explode the nascent off-grid solar market in Africa by combining falling prices in solar with mobile phone payment technology, meaning the whole thing becomes commercially viable even for the poorest.
We will alter the current trajectory which won't see Africans enjoying universal energy access until 2080. Instead we will deliver it by 2030.
Along with all the health, educational and entrepreneurial opportunities brought by access to electricity.
For we understand that access to basic services like this are essential for development goals, but also vital to building a stable and secure future.
Whether you're in Europe or in Africa, we are all feeling the impact of shared challenges: irregular migration, refugee flows, and extremism on top of that.
We've been shocked by the scenes in Calais, Hungary and Greece… but we may have missed the 315,000 Sudanese in Chad, the 350,000 Somalis in Dadaab; or the 700,000 South Sudanese, Eritreans and Somalis in Ethiopia. Numbers which dwarf those in Europe.
Addressing the migration crisis is about much more than stopping boats or building fences.
We want to spend taxpayers' money on addressing the root causes of instability rather than fighting fires.
Because stability is a prerequisite for growth.
So we're partnering with Africa and building their security capacity.
First, by increasing the pool of capable of UN and African Union peacekeepers through our world class training and through the provision of financial support that makes their vital work possible.
Second, by building the ability to respond to those unexpected crises that can be almost as devastating as any conflict. I pay tribute to the role our military, diplomats and development actors played in responding to the Ebola crisis, working to a single strategy with the Government of Sierra Leone and bring the outbreak under control.
Third, by supporting security sector reform, to help countries like Nigeria tackle the evil of Boko Haram. Working alongside them to continue to seek the Chibok school girls. But also through the work of our British Peace Support Teams in Eastern and Southern Africa, where we are developing capability and accountable leadership in the long-term.
Fourth, by leading stabilisation, security and justice programmes across the continent, including through the UK's Conflict, Security and Stability Fund, that deliver results.
For example helping reduce the risk of electoral violence in Kenya in 2013 by supporting the mediation process after the 2007 elections. Or our work to encourage a peaceful transfer of power in Nigeria for the first time.
And, fifth, by working to counter extremism and organised crime in Africa. Our Prime Minister has led sustained efforts on our own shores, but Britain also stands should-to-shoulder with our partners overseas. Extremism knows no borders and it can only be defeated by working together.
But none of this is easy – it's slow, complex, and certainly not cheap.
This government won the election on the promise to deal with the budget deficit. So we need to be savvy, strategic and smart about how we use our resources and clout.
We need to make sure we're securing strategic alliances, building load-bearing relationships… and yes, winning contracts for UK companies too.
Our substantial aid budget, half of which we spend in Africa, must be part of a joined up approach on Africa. It needs to complement the unrivaled work of our Armed Forces and our world-class diplomatic network which maintains the relationships and repute that allow our voice to be heard.
We need to work smarter, to leverage our global influence, and also deliver through the clubs we're part of – the UN, the EU and the Commonwealth, and in partnership with the AU and the rest.
In the run up to the Valletta Summit on Migration next month, we are working hard to secure African political buy-in: dealing with migration up-stream and working together to address the drivers of conflict.
And, closer to home, we're making sure that our own governmental priorities on Africa are fully joined up, something I don't think has been the case in the past.
Approaching the many challenges with a clear understanding of this vibrant, complex and ever-changing continent.
Bringing together our work to build security, governance and economic development under a comprehensive strategy.
Delivering the high level engagement this continent deserves.
And as I've said today, the key to good policy is partnership and cooperation.
African views are vital to inform our work in Africa. This Government will engage at the highest levels, with Prime Ministers and Presidents, policymakers and citizens across Africa, including through visits at the most senior levels of Government.
So, the challenges in Africa are evolving: a year ago, Ebola was spreading in West Africa; today it's under control. A year ago, migration was not top of the list of challenges; today it's top of every agenda and on the front page of most newspapers.
But the opportunities are evolving, too: today, Africa is the second-largest mobile technology market after Asia, and the fastest growing one. The widespread use of systems like M-Pesa and other phone based money transfer services, is revolutionising banking across Africa.
When I was in Tanzania I saw firsthand how people in remote villages use the M-Pesa service to pay for goods and services, including electricity.
According to McKinsey, Africa is almost as urbanised as China.
There are as many one-million people or more cities in Africa as there are in the whole of Europe. And their largest cities are far bigger.
On Wednesday I paid a visit the Governor of Lagos. He believes his city now contains a staggering 20 million citizens!
And while Africa is far from immune to fluctuations in the global economy, with a population set to double in size in the next 35 years, it has the potential to be a major economic success story in the second half of 21st century.
We therefore need to maximise the huge opportunities on offer.
We need to make sure that young people in Nigeria, South Sudan, DRC and in 51 other countries feel safe, go to school, find work and build a better future for themselves, their families and their societies.
Africa is ever-changing. And our relationship with Africa must change too.
In an increasingly global world, our challenges are shared – and so must be our solutions.
Published 16 October 2015