News story
Travel advice - Juventus v Manchester City
Manchester City play Juventus in the UEFA Europa League on 16 December. Check our travel advice for fans if you're going to the match.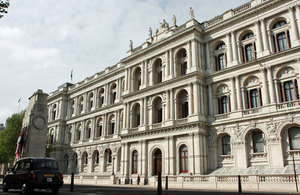 Kick off is at 1900 hours (local time) at the Stadio Olympico, Turin.
You can find more information and advice for fans here.
Remember:
You don't need a visa to enter Italy but your passport must be valid for the duration of your stay.
Take out some travel insurance and get a European Health Insurance Card - even if you're only going for one night, if you get into difficulties it could save you a lot of money!
There is a Legal requirement to carry a Photo ID with you at all times.
At the match:
You will need your passport for entry into the stadium for ticket identification purposes.
You will not be allowed to bring large amounts of coins or belts with big buckles into the stadium.
All banners MUST be approved in advance - you should consult Manchester City.
An alcohol ban will be in force around the stadium on match day.
You will be told to remain in the stadium at the end of the game for approx 30 minutes to allow the home supporters' area to be cleared. For more information on local travel, see our travel advice for Italy.
Published 14 December 2010