News story
This week at the Foreign Office
A look at the work of the Foreign Office and its embassies overseas this week.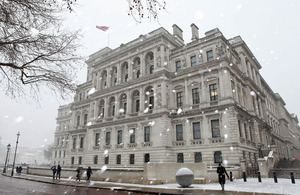 Lebanon
The Foreign Secretary William Hague visited Lebanon this week, and highlighted the importance of Lebanon's role in the region. He said: "In these difficult times, it is especially important that Lebanon remains united in its diversity. I have assured Lebanon's leaders that the UK will play its part, through our political efforts, through our enhanced support to the army, and through our solidarity with the Lebanese people."
The Foreign Secretary visited a distribution centre in Lebanon for Syrian refugees and announced the UK will allocate £11.15m toward humanitarian relief in Lebanon.
The Foreign Secretary met with Lebanese leaders and offered UK support for stability and pledged a further £1m to the Special Tribunal for Lebanon.
Syria
The EU agreed to amend the arms embargo on Syria and extend it for three months. The Foreign Secretary welcomed the decision he said: "It will allow us now to supply a greater range of equipment to help to protect civilian life in Syria."
The UN Commission of Inquiry confirmed that the Assad regime bears overwhelming responsibility for the situation in Syria, and for the worst human rights violations and abuses. The Foreign Secretary said: "We welcome the Commission's call for the UN Security Council to refer Syria to the International Criminal Court, a course of action that we strongly support."
Yemen
Foreign Office Minister Alistair Burt welcomed the UN Security Council statement and expressed concern at the interference by former President Saleh in political transition in Yemen. The Minister said: "It sends a clear message about the international community's full support for President Hadi's leadership and recognises the significant progress made so far."
South Georgia & the South Sandwich Islands
Hugh Fearnley-Whittingstall's TV program looked at fish stocks around the South Georgia & the South Sandwich Islands. Foreign Office Minister Mark Simmonds welcomed the programme and said: "By demonstrating that a truly well-managed and sustainable fishery can be delivered around South Georgia, the UK is showing leadership to others."
Japan
Baroness Warsi called on Japan to reconsider its policy on the death penalty following the execution of three people this week. She said: "There is no conclusive evidence that it has any value as a deterrent, its use undermines human dignity and any miscarriage of justice is irreversible and irreparable."
Also this week
Published 22 February 2013