News story
Foreign Secretary visits Moldova to support its European aspirations
Foreign Secretary William Hague visited Chisinau with the Foreign Ministers of Poland and Sweden, Radoslaw Sikorski and Carl Bildt.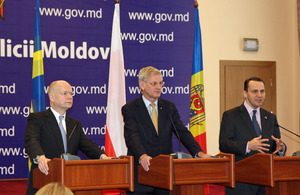 The visiting Ministers held joint meetings with the President of the Republic of Moldova His Excellency Mr Nicolae Timofti, Prime Minister Mr Vlad Filat, Deputy Prime Minister and Minister of Foreign Affairs and European Integration Mr Iurie Leanca, Speaker of Parliament Mr Marian Lupu, Leader of the Liberal Party Mr Mihai Ghimpu, and Leader of the Party of Communists Mr Vladimir Voronin.
During the visit the Foreign Secretary reiterated the UK's support for Moldova's European integration aspirations and the importance of the EU's Eastern Partnership programme, which offers Armenia, Azerbaijan, Belarus, Georgia, Moldova and Ukraine a path to much closer integration with the EU in the form of contractual arrangements. He welcomed the progress being made on negotiating an Association Agreement, including a Deep and Comprehensive Free Trade Agreement, between Moldova and the EU and highlighted the independence and political impartiality of the judiciary and law enforcement institutions as essential preconditions. The Association Agreement will create a framework for deeper co-operation; the Deep and Comprehensive Free Trade Area is intended to improve economic integration by unlocking some of the non-tariff barriers to trade.
Speaking during the visit, the Foreign Secretary said:
I am very pleased to visit the Republic of Moldova with my Polish and Swedish colleagues, the architects of the EU's Eastern Partnership. This joint visit shows our shared commitment to supporting Moldova's European integration aspirations. With sufficient political will and a sustained commitment to reforms, the long-term perspective for Moldova is bright.
Further Information
Read more about the EU's Eastern Partnership programme
British Embassy in Moldova website
Published 19 February 2013