News story
Foreign office welcomes first female participation in Saudi parliament
UK hopes appointment of 30 women to Saudi Arabia's parliament will be a 'landmark moment'.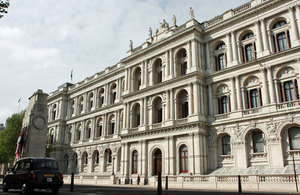 New members of Saudi Arabia's parliament, the Majlis Ash-Shura, were sworn in today with female members sitting for the first time. Commenting today, Minister for the Middle East and North Africa, Alistair Burt, said:
I strongly welcome the decision by His Majesty King Abdullah to appoint 30 women to his consultative council, 20% of the total membership. We hope this will be a landmark moment on the road towards equality for women in Saudi Arabia. I wish these new Shura members every success in their new role.
Further Information
British Embassy in Saudi Arabia website
Published 19 February 2013