World location news
Ecuador and the UK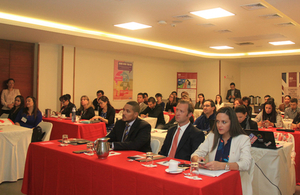 British Embassy Quito and Embassy of Canada, in collaboration with the Ecuadorean Ministry of Health, organised a full-day workshop on healthcare services.
New discussions with Andean nations seeking to replicate existing EU trade agreement.
21 November 2018
Guidance
Our mission
We implement Britain's foreign policy priorities, concentrating on prosperity, security and support for British nationals in Ecuador.
We have an 80% Ecuadorean staff, working hard to encourage better and stronger relations between Ecuador and the UK.
Documents