World location news
Ecuador and the UK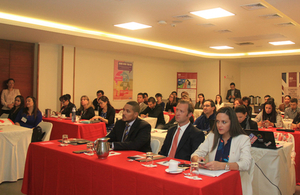 British Embassy Quito and Embassy of Canada, in collaboration with the Ecuadorean Ministry of Health, organised a full-day workshop on healthcare services.
New discussions with Andean nations seeking to replicate existing EU trade agreement.
8 January 2019

Research And Analysis
Our mission
We implement Britain's foreign policy priorities, concentrating on prosperity, security and support for British nationals in Ecuador.
We have an 80% Ecuadorean staff, working hard to encourage better and stronger relations between Ecuador and the UK.
Documents