News story
This week at the Foreign Office
A look at the work of the Foreign Office and its embassies overseas this week.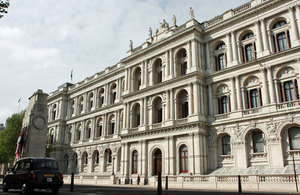 UK Presidency of the G8
On the 1st January the UK took over the one year Presidency of the G8. The UK's priorities for the G8 are to advance trade, to strengthening international tax standards and to improve the transparency and accountability of governments.
The Foreign Secretary William Hague will host the G8 foreign minister's meeting, in addition to the priorities above the Foreign Secretary will focus on the Preventing Sexual Violence Initiative and ensuring that the G8's Deauville Partnership provides the support needed by our partners in the Arab world.
This week the British Embassies in San Salvador and Ethiopia blogged about how the work they are doing fits in with the UK priorities for the G8.
Somalia
The Foreign Secretary met Fawzia Yusuf H. Adam the Somali Foreign Minister to discuss recent progress in Somalia. Fawzia Yusuf H. Adam outlined the challenges ahead including improving security, increasing access to justice, transparent financial management, political reconciliation and economic development.
The Falklands
Responding to Argentina's invitation to negotiations about the sovereignty of the Falkland Islands the Foreign Office reiterated the UK government's policy on the Falklands. A spokesperson said: "The people of the Falklands are British and have chosen to be so. They have the right to self-determination as set out in the UN Charter."
Sudan and South Sudan
The Foreign Secretary, the Norwegian Foreign Minister and the U.S. Secretary of State called on the Presidents of Sudan and South Sudan to implement agreements on border security and oil, and to resolve all other outstanding issues. They said: "We remind the leaders of Sudan and South Sudan that the international community is fully committed to a vision of two viable countries at peace with one another, and that we stand ready to support them in realising that vision."
Burma
Commenting on the ongoing violence and reports of airstrikes in Burma's Kachin State, Foreign Office Minister Hugo Swire said: "An escalation in hostilities would put at risk the chance of a lasting peace in Burma. It is imperative that military commanders in Burma heed their President's calls for an end to hostilities."
The Democratic Republic of Congo
Foreign Office Minister Mark Simmonds welcomed the inclusion of the milita groups the M23 and Forces Democratiques de Libération du Rwanda (FDLR) on the UN Security Council Sanctions committee list of sanctioned organisations. The Minister said: "The dialogue needed to resolve the crisis must ensure that all violence stops, that external support to M23 ends and that there is no impunity for M23 commanders and others who have committed serious human rights abuses, including the FDLR."
Also this week
Published 4 January 2013