News story
Foreign Office condemns persecution of religious minorities in Iran
Foreign Office Minister Alistair Burt has condemned the re-arrest of Christian pastor in Iran.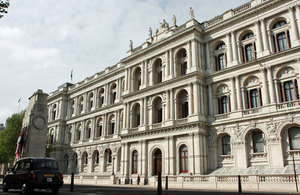 Commenting on reports that Christian Pastor Yousef Nadarkhani had been re-arrested in Iran, Minister for the Middle East and North Africa Alistair Burt said:
I condemn Iran's decision to re-arrest the Christian Pastor Yousef Nadarkhani, and to do so on Christmas Day. In September I welcomed his release from prison, where he was detained on baseless charges of apostasy. That he has now been re-arrested, on the grounds of serving the remainder of his sentence for "evangelising Muslims", is a cynical move by the Iranian Government and yet further proof of Iran's widespread and systematic persecution of religious minorities.
Religious freedom in Iran is a matter of ongoing and deep concern. Reports that more than 50 people were arrested for celebrating Christmas in a private home show the depths of intolerance with which the Iranian Government treats its own citizens. Amongst those arrested, Reverend Vruir Avanessian, who suffers serious ill health, remains imprisoned. I call on the Iranian Government to release immediately any citizens who remain in prison on the basis of their faith or belief.
Further Information
Statement welcoming the release of the pastor in September 2012
More information on the sentencing of pastor Yousef Nadarkhani
Published 3 January 2013