Foreign Office Minister concerned by Iran's appalling treatment of Christian pastor
Pastor Youcef Nardakhani, a Christian pastor from Rasht in Iran, was tried, convicted and sentenced to death for apostasy in September 2010.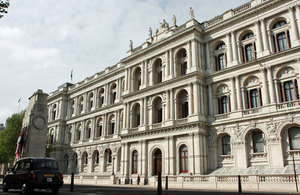 Commenting on reports that Pastor Youcef Nadarkhani's death sentence will be upheld, Minister for the Middle East and North Africa, Alistair Burt said:
"I am very concerned by reports that Pastor Youcef Nadarkhani's sentence to death on alleged apostasy charges will be carried out imminently.
"As I have said before, it is absolutely clear that Pastor Nadarkani is being persecuted simply for following his faith. His treatment by the Iranian authorities is appalling and contravenes Iran's obligation to respect freedom of religion.
I call again on Iran to overturn Pastor Nadarkhani's sentence and release him."
Published 24 February 2012