Foreign Office Minister welcomes release of Christian pastor in Iran
Minister for the Middle East Alistair Burt welcomed the release of Christian pastor Youcef Nadarkhani after an Iranian court in the northern city of Rasht has reportedly dropped the charges of apostasy.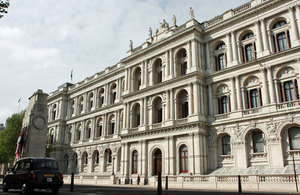 These charges carried the death sentence. Pastor Nadarkhani has already served three years in prison for propagating Christianity and has now been released.
Commenting today, Minister for the Middle East and North Africa, Alistair Burt said:
"I welcome reports that Christian pastor Youcef Nadarkhani has been released from jail and that the charges of apostasy have apparently been dropped. My Ministerial colleagues and I had been calling for these outrageous charges to be overturned for some time.
"Pastor Nadarkhani should never have been imprisoned. I hope his release marks a greater readiness on the part of the Iranian judiciary to meet Iran's international obligations on freedom of religion. Religious freedom in Iran remains a major concern."
Published 10 September 2012