News story
Foreign Office Minister deeply concerned by conflict in Burma
Foreign and Commonwealth Office Minister Rt Hon Hugo Swire MP expressed dismay today at the ongoing violence in Kachin state in Burma.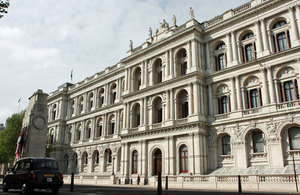 Foreign Office Minister Rt Hon Hugo Swire MP said:
"I am deeply concerned by the ongoing conflict between the Burmese Army and Kachin Independence Army (KIA) in Burma's Kachin State, including recent reports of air strikes in the state. An escalation in hostilities would put at risk the chance of a lasting peace in Burma. It is imperative that military commanders in Burma heed their President's calls for an end to hostilities. I raised these concerns with the Burmese government during my visit last month. It is important that all sides, including the KIA, come to the negotiating table and make renewed efforts to work towards lasting peace.
"During my meetings with the Burmese government I highlighted the importance of normalising the role of the Burmese military. Lasting democratic reform in Burma will not be successful unless they come under the direct authority of the Burmese government.
"The UK continues to support the peace process in Burma directly. We are working with experts with experience of inter-communal trust and peace-building in Northern Ireland to encourage Burma's own reconciliation efforts. The UK is also contributing £3.5 million in humanitarian food aid for civilians displaced by fighting across Kachin State, including in non-government controlled areas. During my visit I stressed the importance of allowing the unhindered supply of humanitarian assistance to the civilian population. We will continue to work closely with humanitarian partners to monitor needs in the event of any further civilian displacement."
Published 3 January 2013