News story
Steaua Bucuresti vs. Chelsea: travel advice
Advice for fans travelling to Bucharest for Chelsea's Europa League Round of 16, 1st Leg match with Steaua Bucuresti on 7 March.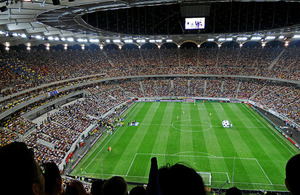 Date: 7 March 2013
Venue: The National Arena, Bucharest
Kick off time: 20:00
Before you go
No visa requirements for British Citizens.
Passports required – validity to cover duration of visit.
Information on Health care & Insurance situation: UK in Romania website and Romania Tourism.
We advise fans to leave their passports in the hotel safe and use another form of ID: e.g. driving licence or the passport photocopy .
At the match
The National Stadium holds 55,634 supporters fully seated. It sits within a large park and is surrounded by open space. There is a high metal fence surrounding the outside of the whole venue with three large public access entrance gates.
There will be a first visual ticket check by police. Once through this gate all supporters can mix freely in a large open area until they enter the channelled search points, with searches by stewards, before entering the electronic turnstiles with bar code readers.
The majority of Chelsea supporters will enter the stadium by means of Gate H.
Turnstiles accessing the North upper tier would open between 2/3 hours prior to kick-off.
Away fans can be asked to remain in the stadium after the match has finished but any delay would be minimal and decided by police – potentially 15 to 30 minutes.
Travelling to the stadium
Independent travelling fans are expected to make their own arrangements for travel, transport and accommodation.
Public transport (buses or taxis) should be used. Taxis should state which company they belong to and what its tariffs are on the side. Rates vary from 1.4 RON per kilometre (Rate of Exchange £1 = Ron 5.00). Taxis outside the railway station, shopping centres and main hotels tend generally to be more expensive, but you could ask the concierge at your hotel to call you a cheaper one. Independent drivers may charge you a much higher rate than you would normally expect to pay.
Chelsea supporters should not use the Metro Station (Piata Muncii) closest to the stadium, as this would involve Chelsea supporters walking though a neighbourhood frequented by Steaua Bucharest supporters.
Chelsea supporters will be required to go to a meeting point (on the approach to the stadium) at Strada Tony Bulandra and Strada Mr Ion Coravu. This is adjacent to a large sign "Baza Sportiva Electroaparataj". From this location they will be escorted to the stadium's away section by police. Police have indicated that any persons identified as Chelsea supporters in the vicinity of the arena will be taken to the meeting point.
The City government and police will also provide a free shuttle bus service from a pick-up point at Str. Halelor in the Old Town area of Bucharest. (Close to a local landmark, the Manuc Inn). The free shuttle buses will transport all away supporters back to the Old Town area.
Tips
Fans are encouraged to get to the stadium early as entry is by bar-coded ticket only and scanning takes some time.
Fans can expect to be security checked more than once on the approach to the stadium.
No alcohol is allowed at the match. Fans who are manifestly drunk will be refused entry.
Drinking on the streets is not permitted. Potential 50 Euro fine.
Urinating in public is prohibited.
Loud shouting or singing after 22:00 is considered disorderly conduct.
All drug-related or sex offences are treated seriously. (Age of consent 18).
Photography is not permitted at airports and military bases. It is advisable to ask before photographing anything potentially sensitive.
You are advised to maintain at least the same level of personal security awareness as in the UK. You should also be alert to the risk of petty theft in Bucharest and for pickpockets and bag snatchers in crowded areas, particularly near exchange shops, hotels, on public transport (especially to the airport), main railway stations and inside airport terminals. Organised attacks by groups, often including children, occur. The most common method is of distraction whilst several people, often the children, attempt to snatch watches and jewellery from pockets or from around the neck and wrist. We have also heard reports of a scam involving thieves who present themselves as plain-clothes policemen. They flash a badge and often ask to see passports and wallets. They count the money and give the documents back, but when they return the wallet, some of the money is missing.
Take special care not to leave jackets or bags containing wallets or passports unattended in restaurants and bars.
We are aware of thefts of valuables including passports from hotel rooms. Items of value, including passports and credit cards should be deposited in hotel safes. However, you should carry a photocopy of the information pages of your passport as ID or the driving licence.
You should be aware that there are reports of credit or charge cards being 'copied' when used in some bars and restaurants, resulting in illegal charges being raised against the user account.
It is not advisable to drink the tap water.
Emergency services numbers
Emergency Services : Dial 112
British Embassy contact details
British Embassy,
24 Jules Michelet
010463 Bucharest,
Romania

Telephone: Main (40) (21) 201 7200
Further information
Follow @fcoTravel for the latest travel updates
Published 5 March 2013