World news story
Steaua Bucuresti v Manchester City – Travel Advice
Advice for fans travelling to Bucharest for the football match on Tuesday 16 August 2016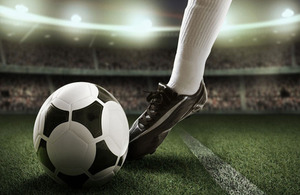 Fixture information
Date: Tuesday 16 August 2016
Venue: National Arena Stadium, Bucharest
Kick off time: 9:45pm (local time); 7:45 pm (UK time)
As well as this advice, check out our travel advice for Romania
Passport and Visas
Please check your passport and visa details:
you don't need a visa to travel to Romania if you have a British Citizen passport; but your passport should be valid for the duration of your stay in the country
if you have a different type of British nationality (other than 'British Citizen'), check entry requirements with the Romanian Embassy in London before you travel
remember to bring your European Health Insurance Card (EHIC)
make sure you take out good travel insurance even if you're only going for one night – it could save you a lot of money if you get into difficulties
carry a copy of your passport personal details page at all times; you'll need this (and your match ticket) to gain entry to the stadium if you lose your passport, or have it stolen, contact the British Embassy on +40212017200 and apply for an Emergency Travel Document (ETD)
Getting to National Arena Stadium
National Arena Stadium is located in a large park and is surrounded by open space; there's a high metal fence surrounding the venue with 3 large public access entrance gates; you can find a map showing the location of the stadium here
you can get to the stadium by public transport (buses and metro) or taxis (bus lines:104 from the Old Town area; metro Line: Piata Muncii); however, if you go to the Piata Muncii metro station, closest to the stadium, this will involve walking though a neighbourhood frequented by Steaua Bucharest supporters. See metro map here
taxis should state which company they belong to and what its tariffs are on the side; rates vary from 1.4 RON per kilometre (rate of exchange £1 = Ron 5.00)
taxis outside the railway station, shopping centres and main hotels tend generally to be more expensive, but you could ask the concierge at your hotel to call you a cheaper one; independent drivers may charge you a much higher rate than you would normally expect to pay
at Bucharest airport you have the possibility to order a taxi, by using the touch screen devices in the public area of the Arrivals Terminal; you'll usually pay between RON 1.3-1.6 per km; if you take a taxi from a hotel, check the price per km as many are private minicabs charging up to 10 times the normal rate
no public transport is available after the match; the last bus/metro leaves at 23:30
At the match
most Manchester City supporters will enter the stadium through entrance gates from Tony Bulandra street
Manchester City fans are mainly seated in section, 356, 354, 352 and 350
get to the stadium early as entry is by bar-coded ticket only and scanning takes some time
expect to be security checked more than once on the approach to the stadium
no alcohol is allowed at the match; fans who are obviously drunk will be refused entry
there will be a first visual ticket check by police; once through this gate all supporters can mix freely in a large open area until they enter the channelled search points, with searches by stewards, before entering the electronic turnstiles with bar code readers
flags and banners are welcome; flags of an overtly political, sectarian or religious nature won't be allowed and may be confiscated
no flares, fireworks, alcohol, cans, glass, bottle tops are allowed in the stadium
Helpful tips for the local area
Leave your passports in the hotel safe and carry with you another form of ID: e.g. driving licence or the passport photocopy.
Drinking on the streets isn't allowed and the penalty is a 50 Euros fine.
Loud shouting or singing after 10 pm (outside the stadium) is considered disorderly conduct and you may be arrested.
All drug-related and sex offences are treated seriously; the age of consent is 18.
You should maintain at least the same level of personal security awareness as in the UK. You should also be alert to the risk of petty theft in Bucharest or other Romanian cities and for pickpockets and bag snatchers in crowded areas, particularly near currency exchange shops, hotels, on public transport (especially to the airport), main railway stations and inside airport terminals.
Petty crime can often involve groups, including children. The most common method is distraction while several people attempt to steal watches, jewelry and other valuables.
Contact the British Embassy in Bucharest in case of a consular emergency:
24 Jules Michelet 010463 Bucharest, Bucharest Tel: (40) (21) 201 7200 (also for out of hours emergencies) Office hours: Monday to Friday: 8am – 1pm and 2pm – 4pm For more information please visit the British Embassy website
Emergency services numbers
Fire/Police/Ambulance: 112
Further information
Follow the British Embassy on Twitter for up to the minute travel advice: @UKinRomania
Tourist information about Romania
Information about the city of Bucharest
Published 12 August 2016