World news story
Slovakia v England travel advice
Travel advice for supporters travelling to Trnava, Slovakia for England's match with Slovakia on 4 September 2016.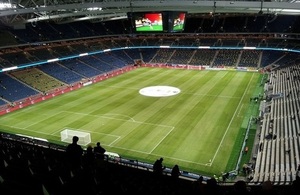 Advice for fans travelling to Slovakia for England's match with Slovakia on 4 September.
As well as this advice, check out our travel advice for Slovakia
Passports and visas
You don't need a visa to travel to Slovakia but your passport should be valid for the whole duration of your trip and be in a presentable state. Remember your European Health Insurance Card (EHIC) but also take out travel insurance; even if you're only going for one night - it could save you a lot of money if you get into difficulties.
You must carry ID with you at all times – you'll need to carry your passport to the match to gain entry to the stadium.
If you lose your passport, you'll need to get an emergency travel document from the British Embassy in Bratislava.
Book an appointment for an emergency travel document in Bratislava
Getting to the stadium
The match will take place in Trnava, a small town approximately 60 km away from Slovakia's capital Bratislava. The stadium is within walking distance from both the coach and train stations in Trnava. Traffic restrictions are expected during the match. A map of the stadium with nearby surroundings in Slovak and in English is available on the following link:
Stadion Antona Malatinskeho / City Arena Stadium
On match day, there is the normal Sunday service of coaches and trains between Bratislava and Trnava. There are no specific coaches or trains being organised for travelling fans. Train and coach services providing transport between Bratislava and Trnava can be found on the following links:
Given it is a Sunday evening, those planning to return to Bratislava directly after the match should ensure they know the times of trains and coaches and ideally have their transport pre-arranged as demand will be higher than usual on these routes. Transport will not run very late in to the evening, and there will not be capacity for all returning fans to get on the same train or coach.
At the match
England supporters will be located in sectors "C" and "D" of the stadium. There are turnstiles with ticket reading facilities to ensure swift entry to supporters. Access to the stadium may be slow – there will be ticket checks and body searches at the entrance to the turnstiles; get to the stadium early – doors will open at 4 pm. No bottles or glasses will be allowed in the stadium and no alcohol served there.
Any sharp or other potentially dangerous items may be confiscated and are unlikely to be returned. Alcohol will be banned at the stadium and non alcoholic refreshments will be available in stands and will be served in plastic cups. Flags and banners of UEFA standard sizes without poles are allowed. Musical instruments are normally permitted.
Visiting supporters may be kept behind for around 20 minutes after the match to allow the home fans to leave. If this is the case, an announcement in Slovak and in English will be issued near to the end of the game.
Tips
As in any other city beware of pickpockets and bag snatchers at airports, railway stations, around the town centre and when using public transport. Only carry what you need, leave spare cash and valuables in hotel safety deposits.
Unruly or rowdy behaviour between 10:00pm and 6:00am is illegal in Slovakia and could attract the attention of the police. Tourists have been fined or imprisoned for causing a public nuisance.
Contact the British Embassy in Bratislava
British Embassy Bratislava Panska 16 81101 Bratislava
Telephone: +421 2 5998 2000 (also for out of hours emergencies)
Office hours: Monday to Thursday: 9:00am to 12:30pm and 1:30pm to 5:00pm Friday: 9:00am to 2:00pm
Emergency services
112 Combined emergency line (English speaking) 158 Police 155 Ambulance 150 Fire
Further information
Slovak Football Association: www.futbalsfz.sk
Official site of the city of Bratislava: www.visitbratislava.com
Public transport in Bratislava: www.imhd.sk
Official site of the city of Trnava: www.vitajtevtrnave.sk
Public transport in Trnava: www.imhd.sk
Published 31 August 2016