World news story
Mongol Rally: travel advice for Ukraine
Essential travel advice for those taking part in the Mongol Rally in Ukraine.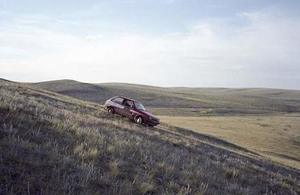 Read more about travelling to Ukraine
Entry requirements
You are allowed to enter Ukraine without a visa for visits of up to 90 days within a 180 day period. For further advice on entry requirements contact your travel agent or your nearest Ukrainian Embassy prior to travel. Your passport should be valid for the proposed duration of your stay.
Customs regulations
You should take with you all registration documents for your vehicle, ownership records and insurance. To drive legally in Ukraine you are required to hold an International Driving Permit (IDP) in addition to your UK driving licence.
When transiting Ukraine in a private vehicle, you are required to complete a customs declaration form and pay a deposit. For details of the payment please check with the Ukrainian customs authorities or seek legal advice. The above requirement does not apply to vehicles that are permanently registered with the relevant registration authority of a foreign country, where that is confirmed by the appropriate document.
Vehicles in transit may enter Ukraine for five days if transiting one customs area, or 10 days if transiting across more than one customs area. Please note that vehicles for personal use can be used on the customs territory of Ukraine exclusively by those citizens who brought them in. They may not be used for commercial purposes in Ukraine, dismantled, alienated or given for ownership or use to other people.
If your vehicle breaks down and is unfixable you must provide evidence of this to the Customs Service. You will then be able to dispose of the vehicle by placing it into the customs regime of abandonment to the State, elimination or destruction.
Please check Ukrainian customs regulations at the State Fiscal Service's website (in Ukrainian) prior to travel. Failure to comply with local rules may result in imposition of fines, confiscation of property or unplanned delay in travel.
Money
You can change US dollars and Euros in major cities. Sterling (in Bank of England notes only) may also be exchanged but at a more limited number of sites. Use only official exchange booths. ATMs are also available and credit cards are widely used, but not universally accepted, in cities. Outside cities you should ensure that you have sufficient funds available in local currency.
Communications
Most UK phone networks work here but the network is not widely available in remote areas. Local SIM cards and mobile phones can be purchased at a reasonable price. Wifi is available in many restaurants, bars and hotels though local internet speeds may be slow and cannot always be relied on.
Driving around
Ukraine drives on the right. Driving standards are poor and roads are of variable quality. Take extra care. There is a high number of traffic accidents, including fatalities. We recommend that you avoid driving outside urban areas, especially at night. It is illegal to use your mobile whilst driving. You must wear a seat belt.There is a zero tolerance policy on drink driving. If you have an accident, wait for the police. For more general information see Driving Abroad
Healthcare
Seek medical advice before travelling to Ukraine and ensure that all appropriate vaccinations are up-to-date. State medical facilities in Ukraine are generally poor. Private clinics and hospitals offer a better standard of care, though these do not always meet western standards and practices. If you are involved in an accident or taken ill, it is likely that you would be taken to a state hospital unless you can show that you have comprehensive medical insurance cover.
Insurance
Obtain comprehensive travel and medical insurance before travelling. This should include cover for all forms of medical treatment, including medivac. Check any exclusions and that your policy covers you for all the activities you want to undertake. For more general information see our Travel Insurance page.
Smart advice
DO:
Keep your original passport with you for ID purposes and ensure that next of kin details are kept up to date
Beware of petty crime, especially in crowded areas, tourist spots, in public transport
Drink or use only boiled or bottled water
Be careful of your health when it comes to eating and know that the local vodka is strong
See FCO guide on staying safe abroad
DON'T:
Take photographs in the vicinity of government or military establishments
Get involved with drugs. Penalties are severe
Accept drinks in bars from casual acquaintances as they could be spiked
Getting help
If things do go wrong when you are oversees then see Helping British people overseas.
Local Emergency Services numbers:
101 – Fire
102 – Police
103 – Ambulance
112 – Emergency
9 Desyatynna str
01901 Kyiv
Ukraine
Telephone (+38 044) 490 36 60
Office hours: Monday to Friday: 9am to 5pm
Published 14 July 2016