News story
Metalist Kharkiv vs Newcastle United: travel advice
Advice for fans travelling to Kharkiv for Newcastle United's Europa League Round of 32 match with Metalist Kharkiv on 21 February.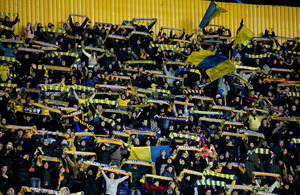 Passports and visas
You don't need a visa to enter Ukraine for less than 3 months but you should ensure your passport is valid for the duration of your stay.
Take out travel insurance even if you're only going for one night, if you get into difficulties it could save you a lot of money.
You should carry your original passport with you for identification purposes. Ensure your passport is kept safely and keep a photocopy separately from the original document, as this will help speed up the replacement process if needed. Ensure that next of kin details are kept up to date.
If you lose your passport you will need to obtain a police report and apply for Emergency Travel Document (ETD) to return home at the Consular Section of the British Embassy in Kyiv. The fee for ETD is £95 (1330 UAH) payable in cash in local currency.
Getting to the stadium
The stadium is located on 65 Plekhanivska street.
Detailed information on how to get to the stadium is provided on the Metalist FC website .
Map of Kharkiv
At the match
The Metalist stadium is located south-east of Kharkiv's city centre, about 5 km from the centre. Information about Metalist FC and its stadium can be found on the Metalist FC website
We recommend that you arrive early for the match. The away fans' entrance to the stadium is Gate 30 between Eastern and Southern zones.
You will be subject to a body search before entering the ground.
Fireworks, alcohol, poles for flags and any item that can be used as a weapon or thrown onto the pitch will not be allowed into the ground.
Drinking alcohol at football matches is banned - police and security staff have the authority to deny entry into the stadium to spectators under the influence of alcohol or drugs.
Do not smoke at the stadium except for the specially equipped places.
Obey instructions from stadium security to avoid being removed from the stadium and detained by the police.
It is usual practice for the visiting fans to be held back for approximately 20 minutes after the match.
Tips
Most trips are trouble free, however there have been cases of violent attacks on foreign nationals in major cities and towns.
You should be aware of pickpockets and bag snatchers, keep valuables and cash out of sight particularly in crowded areas and tourist spots.
Don't get scammed. A common scam is to drop a wallet or bundle of money in front of a tourist. The criminal then 'finds' the money and asks if it is the tourist's or offers to share the money with them. If you are approached in this way, walk away without engaging in conversation.
Be wary of accepting drinks in bars from strangers or people you've just met in case they have been spiked.
Don't smoke and drink alcohol in public places.
Don't get involved with drugs - the penalties are severe.
For the latest information on safety and security, visit our travel advice page for Ukraine.
Drink or use only boiled or bottled water.
Emergency numbers:
101 – Fire
102 – Police
103 – Ambulance
112 - Emergency
British Embassy
Further information
Published 15 February 2013