World news story
Lithuania v. Scotland football match travel advice
Travel advice for Scotland fans travelling to Vilnius for the Lithuania v Scotland football match on Friday 1 September 2017.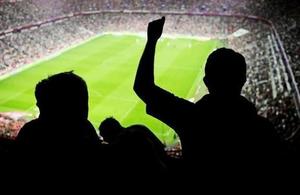 Advice for fans travelling to Lithuania for Scotland's World Cup qualifier against Lithuania on 1 September 2017.
As well as this advice, check out our travel advice for Lithuania.
| | |
| --- | --- |
| DATE | Friday 1 September 2017 |
| VENUE | Lithuanian Football Federation (LFF) stadium, Stadiono g.2, Vilnius |
| KICK-OFF | 9:45pm (local time) |
Passports and visas
If your passport describes you as a British Citizen, you won't need a visa to enter Lithuania. Your passport should be valid for the proposed duration of your stay. Make sure that your next of kin details on the back page of your passport are up to date.
Remember to bring your European Health Insurance Card (EHIC) with you. To access certain healthcare in Lithuanian hospitals, your EHIC card must be presented, otherwise you may be asked to pay upfront.
You should also take out travel insurance, even if you're only going for one night - it could save you a lot of money if you get into difficulties.
Keep your passport secure. If you lose your passport, you'll need to get an Emergency Travel Document (ETD) from the British Embassy in Vilnius. You'll need to book an appointment before you visit the embassy. We'll ask you for a police report, flight reservation confirmation, one photo in colour and the fee of €120 payable in euros or by Visa/MasterCard. We can't guarantee that we'll be able to issue you an ETD in time for your flight.
The Lithuanian police advise that you should carry some form of ID (such as a photocard driving licence) with you at all times.
Before the match
You can collect your match tickets from the following locations:
In advance from the Novotel Hotel, Gedimino pr.16, on Thursday 31 August (6pm to 9pm) and Friday 1 September (11am to 3pm)
On the evening of the match (7:45pm onwards) from the Supporters Centre booth near the South gates (the furthest entrance to the stadium from the Old Town, accessed from Liepkalnio street). This booth is for ticket collection only.
Match tickets must be collected in person and you must provide photographic ID.
You should aim to arrive at the stadium as early as possible as there is only one entrance to the stadium (see below) and it may take some time to gain entry.
There is much to enjoy in Vilnius. Check out the Vilnius Tourism Office website and Vilnius "In Your Pocket" guide, amongst other sources of information that are available.
Weather in September in Lithuania can be unpredictable. While it may be warm during the day, it can be much colder in the evening, when temperatures may fall close to 0°C. Take suitable warm clothing with you for all weather types, including rain.
Drinking alcohol in public is illegal. On the day of the match (Friday 1 September), you won't be able to buy alcohol from shops as this is a day when the sale of alcohol is restricted by law. Bars and restaurants can still serve alcohol and you're allowed to drink in designated areas outside these establishments.
The Old Town area of Vilnius is normally busy on this date with families marking the start of the school year. You may find that the police deal with incidents involving alcohol more stringently, including on the spot fines or even arrest.
Don't get involved with drugs. Possession of even small quantities can lead to heavy fines and/or detention.
People in Lithuania are warm and friendly and want you to enjoy yourselves while here for the match. However, the culture can be more reserved than in the UK. Noise and drunkenness in the street, however friendly you may intend it, can be misunderstood as public indecency and may be perceived as hostile. As in the UK, displays of indecency or public disorder can also lead to arrest and detention. Be responsible and respectful of the local culture and environment.
Getting to the stadium
Map of Vilnius (PDF, 4.36MB, 1 page)
The best way to get to the stadium is on foot, directly from the Old Town, approximately a 15 to 20-minute walk from the Town Hall Square. To get there, head south from the Town Hall Square, straight through the Gates of Dawn on Ausros Vartu street. Continue straight on, passing under the railway bridge, and the stadium will be directly ahead of you. The entrance for Scotland fans is at the far end of the stadium, so continue to walk past the first entrance on the right until you reach the end of the stadium and your entrance is on the right. Maps are available from the city's tourist offices – there's an office at the airport open from 9am to 9pm – and all hotels should be able to provide you with a map and assistance with directions.
If you decide to travel to the stadium by bus, bus numbers 12, 16, 19, 61 and 82 depart from the train station with only two stops to the stadium. The bus stop is called "Stadionas" – you can find details of bus routes here. A single ticket costs €1. You can buy tickets in cash from the driver or get a pre-paid e-ticket (Vilniečio kortelė/Vilnius card) from most news kiosks. For more information on transport please check here.
A taxi from the Old Town to the Stadium will cost approximately €5 to €7. Double tariffs are applied to a taxi without an advance call. There are many taxi firms to choose from and some of the firms are listed here.
You will not need your passport to gain entrance to the match, but you should carry a form of ID (such a driving licence) with you. Keep your passport and valuables secure.
At the match
Scotland fans will be seated in blocks PB, PC, PD in the South Stand and block VE in the West Stand, with entry to both stands via the South gates. Doors will open at 7:45pm. You should get to the stadium at least 1 hour before kick-off - access to the stadium can be slow as there's only one gate for the South stand. Ticket checks and body searches will be in operation.
Wheelchair access will be provided from the South gates. Arrive early if you need assistance.
Police and security staff have the authority to deny entry into the stadium to spectators under the influence of alcohol or drugs. Fans cannot bring alcohol into the stadium, those that attempt to do so will have the alcohol confiscated. Alcohol may be available for purchase within the stadium.
In addition to items which would usually be prohibited at football matches in the UK, the following restrictions will also apply at the stadium: large flags close to or over 2mx1m in size will not be allowed in the stadium (as there is very limited space to display them) and fans bringing them will be asked to leave them outside the stadium (though fans should note that there is no secure storage offered); any item that can be used as a weapon or thrown onto the pitch will not be allowed into the ground, including bottles; fans are advised not to bring anything bulky as there is no safe storage if the item is denied entry. Musical instruments are usually permitted.
Visiting fans will be kept behind for around 15 minutes after the match to allow the home fans to leave first and avoid congestion at the gates. We recommend that you return straight to the Old Town after the match.
Tips
As in any other city, beware of pickpockets and bag snatchers at airports, railway stations, around the town centre and when using public transport - only carry what you need and keep items secure at all times. Stick to well-lit streets and avoid drinking too much alcohol that can put you at increased risk.
Contact the British Embassy Vilnius
British Embassy Vilnius
Telephone: +370 5 2462900
Address: Antakalnio street 2, Vilnius, LT-10308
Opening hours: Monday to Thursday 8:30am to 4:45pm; Friday 8:30am to 3:30pm

Email (for non-urgent consular assistance): Consular.Vilnius@fco.gov.uk
For more information please visit our website and follow us on British Embassy Vilnius Twitter and on Facebook "British Embassy Vilnius.
Emergency service numbers
In case of emergency call 112. (No prefix necessary)
There's a police station in the Old Town, on Pylimo street 52, Vilnius, tel: +370 52 716078.
Hospitals
Respublikine Vilniaus Universitetine Ligonine
Emergency Hospital
Siltnamiu str 29, LT-04130 Vilnius
Tel: +370 52169069
Fax: +370 5 216 8984

E-mail: rvul@rvul.lt, website: www.rvul.lt
Santaros klinikos
University Hospital
Santariskiu str. 2, LT-08661, Vilnius
Tel: +370 5 236 5000
Fax: +370 5 236 5111

E-mail: info@santa.lt, website: www.santa.lt
DENTIST
Zalgirio klinika
Zalgirio Clinic of Vilnius University Hospital
Zalgirio str. 117 (entrance from Giedraiciai str.)
Tel: +370 52 780667

Opening hours: provides emergency dental treatment from 8pm on weekdays and at weekends
Further information
Lithuanian Football Federation I Scottish Football Association I Vilnius Tourism
Published 9 August 2017