World news story
Football Travel Advice: Petrolul Ploiesti vs Swansea City
If you are planning to come to Romania for the Petrolul Ploiesti – Swansea City game on 29 August 2013 please check out our travel advice.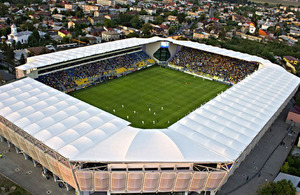 Game information
UEFA Europa League Play-Off Round, 2nd Leg

Time: Thursday, 29 August 2013

Kick-off: 20:30

Location: Ilie Oana Stadium – Str. Stadionului 26, Ploiesti, Prahova County, Romania
Passports, Visas and Travel Insurance
British citizens do not need visas for Romania. Passports should be valid for the duration of the visit. We advise football fans especially to leave their passports in the hotel safe and use another form of ID: eg driving licence or the passport photocopy.
Information about travel insurance is available on our website or on the Internet page of the Romanian National Tourist Office.
At the match
The Ilie Oana Stadium is an all seater stadium and has a capacity of 15,500. Ilie Oană got built in the place of Petrolul's old stadium with the same name, which in turn had been built in 1937. The old stadium got demolished in 2009, and two years later, on the 23 September 2011, the new stadium officially opened with an exhibition match between former Petrolul players and former Romania internationals.
Entry to the stadium is by an electronic turnstile system. The away supporters would come down a narrow street with a 90 degree left angle turn which then leads to the turnstiles. Apparently the police and stewards do not allow home supporters down this road until after all Swansea City supporters are inside the stadium. Home supporters have to enter the stadium from the opposite corner to the away fans. Away fans can be asked to remain in the stadium after the match has finished but any delay would be minimal and decided by police – potentially 15 to 30 minutes.
Getting there
Address: 26 Str. Stadionului, Ploieşti
Stadionul Ilie Oană is located in central Ploieşti just east of the city centre. It can easily be walked to in a few minutes.
Very frequent trains run to Ploieşti from Bucharest Gara Nord station. The journey takes about 40 minutes. The trains stop either at Gara de Sud or Gara Vest train stations. Gara de Sud lies about 2 kilometres south of the centre, which means a 30-minute walk, though there are plenty of public transport options. Gara Vest lies further away, about 4 kilometres south-west, and a bus ride to the centre is therefore necessary.
If the walk from Gara de Sud is too much, you can also take tram 101 to get to the centre. Get off at stop Muzeul de Istorie and walk to the stadium. There are furthermore many buses that head in the direction of the centre. You can take bus 30 to go to the city centre and get off at the Townn Hall (Primarie), but the distance to the stadium is bigger from the bus stop than from the tram one.
There is also a tram service from Gara Vest (line 102), but it only connects with western parts of the city. You can get off at stop Restaurant Nord though, and then take tram 101 toward Gara de Sud.
The better option is to take a bus. Bus 2 (or 2b) runs directly to the centre, get off at stop Lic. Mihai Viteazul. Bus 4 is an alternative. Get off at stop Hale Catedrala. It is 5 to 10 minutes walking to the stadium from there.
Tips
Fans are encouraged to get to the stadium early as entry is by bar-coded ticket only and scanning takes some time

Fans can expect to be security checked more than once on the approach to the stadium

No alcohol is allowed at the match. Fans who are manifestly drunk will be refused entry

Drinking on the streets is not permitted. Potential 50 Euro fine

Urinating in public is prohibited

Loud shouting or singing after 10 pm is considered disorderly conduct.

All drug-related or sex offences are treated seriously (age of consent 18)

Photography is not permitted at airports and military bases. It is advisable to ask before photographing anything potentially sensitive

We advise football fans especially to leave their passports in the hotel safe and use another form of ID: eg driving licence or the passport photocopy.

You are advised to maintain at least the same level of personal security awareness as in the UK.

You should also be alert to the risk of petty theft in Bucharest and Ploiesti and for pickpockets and bag snatchers in crowded areas, particularly near exchange shops, hotels, on public transport (especially to the airport), main railway stations and inside airport terminals. Organised attacks by groups, often including children, occur. The most common method is of distraction whilst several people, often the children, attempt to snatch watches and jewellery from pockets or from around the neck and wrist. We have also heard reports of a scam involving thieves who present themselves as plain-clothes policemen. They flash a badge and often ask to see passports and wallets. They count the money and give the documents back, but when they return the wallet, some of the money is missing.

Take special care not to leave jackets or bags containing wallets or passports unattended in restaurants and bars

We are aware of thefts of valuables including passports from hotel rooms. Items of value, including passports and credit cards should be deposited in hotel safes. However, you should carry a photocopy of the information pages of your passport as ID or the driving licence

You should be aware that there are reports of credit or charge cards being 'copied' when used in some bars and restaurants, resulting in illegal charges being raised against the user account

It is not advisable to drink the tap water

Be aware of stray dogs!
In an emergency
If in an emergency dial 112. Alternatively, you can contact the British Embassy Bucharest at (40) (21) 201 7200.
For further information check out our Travel Advice for Romania.
Contact information - British Embassy
Address: 24 Jules Michelet 010463 Bucharest, Romania
Telephone: Main (40) (21) 201 7200
Office hours (GMT): Mon-Thurs: 0630-1500; Fri: 0630-1400 (From last Sun Oct - last Sun Mar) Mon-Thurs: 0530-1400; Fri: 0530-1300 (From last Sun Mar - last Sun Oct)
Local Time: Mon-Thurs: 0830-1700; Fri: 0830-1600
Web: https://www.gov.uk/government/world/romania
Consular Section
Telephone: (40) 21 201 73 51
Fax. (40) 21 201 73 17
Email: DLBucharestConsularSectionProtect@fco.gov.uk
Contact persons: Elena Penescu - Pro Consul and Julian Purcaru - Visa officer
More information - the Romanian National Tourist Office
Web: www.romaniatourism.com
Telephone: (020) 7224 3692
Email: Romaniatravel@btconnect.co
We wish you a safe trip to Romania and enjoy the game!
Published 27 August 2013