World news story
FIFA World Cup 2018 -Travel advice for fans travelling through Lithuania
The England team will play Belgium in Kaliningrad on Thursday 28 June. England fans travelling to the match through Lithuania should familiarise themselves with this advice.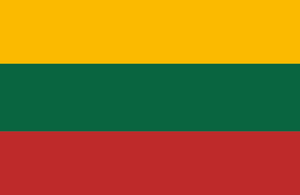 The 2018 FIFA World Cup will take place in Russia from 14 June to 15 July.
The England team will play Belgium in Kaliningrad on Thursday 28 June. Numbers of England fans are expected to travel to Kaliningrad for the match through Lithuania.
Make sure you are familiar with guidance and tips for fans travelling to the World Cup before you go. You can sign up for email alerts to be notified of any updates on travel advice to Russia before and during your trip.
As well as this advice, check out our Lithuania travel advice.
Top tips before going to Lithuania
make sure your passport is valid for the whole of your stay in Lithuania; keep your passport safe during your trip; you don't need a visa to travel to Lithuania
your European Health Insurance Card is not valid in Russia, but it is valid in Lithuania – take it with you and make sure it hasn't expired
take out travel insurance; it could save you a lot of money if you get into difficulties
make copies of your passport and important documents; keep them safe in a separate location to your passport
Minors
Minors under the age of 16 travelling to Lithuania without a parent or legal guardian should check their airline's policy on unaccompanied minors. In some cases when a minor is travelling alone or with a person other than a parent, written parental consent might be required.
Top tips on arrival in Lithuania
carry your original photo ID or passport with you at all times; consider leaving a copy of your passport at your place of accommodation
you can exchange your currency to Euros in currency exchange bureaus or banks
ATMs are widely available around in Vilnius, Kaunas and Klaipeda
public transport tickets must be purchased and validated at the start of a journey. You will be fined if do not hold a ticket or if you are travelling with an invalid ticket. You can buy a ticket "Bilietas" from driver
Lithuanian cities are connected by motorways, public buses are widely available across the country; there is a railway connecting Vilnius, Kaunas and Klaipeda
Emergency services numbers in Lithuania
All emergency services - 112
British Embassy Vilnius contact details
Kaunas
Kaunas is the historical capital and the second-largest city in Lithuania with a population about 312,120 inhabitants. It is located at the confluence of the two largest Lithuanian rivers, the Nemunas and the Neris and has a lot of surviving valuable architectural examples, including the modernist architectural heritage. Kaunas is located 100km from the capital Vilnius and 212km from the country's major seaport Klaipeda.
City is located some 102km away from the main Kybartai-Chernyshevsky border crossing point to Russia. It also operates Kaunas Airport, connected to Kaunas city centre and other major Lithuanian cities by public busses.
Palanga
Palanga is Lithuanian city on the Baltic coast, located some 82km (including ferry) away from Nida-Morskoe border crossing point. It is the busiest summer resort in the country and has a status of a city municipality. City operates Palanga`s International Airport, which is connected to Palanga and country's major seaport Klaipeda by public bus No. 100.
Crossing the border to Russia
Given the high volume of regular traffic on top of high volume of fans expected to cross the border, it is recommended that you allow yourself plenty of time for border procedures. In Lithuania there are four border crossing points to Kaliningrad:
Make sure you have your passport and FAN ID with you, and familiarise yourself with the entry requirements.
Published 14 June 2018