World news story
FC Dynamo Kyiv v Manchester City travel advice
Travel advice for Manchester City fans travelling to Kyiv for the Dynamo Kyiv v Manchester City match on Wednesday 24 February.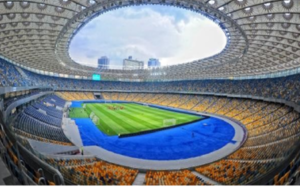 Advice for fans travelling to Ukraine for Manchester City's match with Dynamo Kyiv on 24 February 2016
Date: Wednesday 24 February
Venue: Olimpiyskiy Stadium, Kyiv
Kick off time: 9.45pm (local time)
As well as this advice, check out our travel advice for Ukraine
Passports and visas
you don't need a visa to enter Ukraine for less than 3 months, but your passport should be valid for the proposed duration of your stay

take out travel insurance, even if you're only going for one night - it could save you a lot of money if you get into difficulties

you should carry your passport with you for identification purposes

always take care of your passport, as getting a replacement is costly and time-consuming. Make sure next of kin details are kept up to date and keep a photocopy separately from the original document, this will help speed up the replacement process if needed

if you lose your passport, you'll need to get an Emergency Travel Document from the British Embassy in Kyiv. The service is available within the Embassy working hours
Getting to the stadium
the Olimpiyskiy stadium is located on 55 Velyka Vasylkivska street in central Kyiv, about 2 km from Maydan Nezalezhnosti (Independence Square), 3 km from the central railway station, 7 km from Kyiv (Zhulyany) airport and 30 km from Boryspil airport

it can take around 20 minutes to walk to the stadium from the city centre or you may take a metro. The metro could be overcrowded during peak hours

Olimpiiska and Palats Sportu metro stations will be closed on 20 October before and after the match. It's possible to use other nearby stations: Ploshcha Lva Tolstogo, Klovska, Palats Ukrayina

you can find more information on how to get to the stadium on the stadium website

information on how to get from Boryspil airport to the city and from Kyiv (Zhulyany) airport to the city centre
At the match
the nearest entrance to the away fans' sector in the stadium is West Gate 4-5 (zone A on the stadium map)

access to the stadium can be slow - there will be ticket checks and body searches; to avoid missing the start of the match get to the stadium early – doors will open 2 hours before kick-off

no fireworks, smoke bombs, poles for flags are allowed to be brought into the ground (see Rules of conduct at the stadium

alcohol is banned within the stadium, police and security staff have the authority to deny entry into the stadium to supporters under the influence of alcohol or drugs

don't smoke at the stadium

food outlets and toilets will be available at the rear of the seating area and segregated from the home fans

items should be paid for by cash in the local currency UAH (hryvnya)

obey instructions from the stadium security to avoid being removed from the stadium and detained by the police

visiting supporters will be kept behind for around 15-20 minutes after the match to allow the home fans to leave
Tips
most trips are trouble free, however there have been cases of violent attacks on foreign nationals in Kyiv, so take extra care

be aware of the current political situation (in particular the tension between Ukraine and Russia) and avoid any action or chanting that could provoke a hostile reaction from home fans

as in any other city beware of pickpockets and bag snatchers at airports, railway stations, around the town centre and when using public transport – only carry what you need and keep valuables and cash out of sight or in hotel safety deposits

be wary of accepting drinks in bars from strangers or people you've just met in case they have been spiked

drink bottled water; this is readily available from the local shops and hotels

smoking is prohibited in public places; this includes bars, bus stops, subways, the metro, playgrounds, parks and the stadium itself

drinking alcohol is prohibited in public places (except bars, restaurants)

don't get involved with drugs - the penalties are severe

for more information on safety and security visit our travel advice page
Contact the British Embassy in Kyiv
British Embassy Kyiv
9 Desyatynna str
01901 Kyiv
Ukraine
Telephone (+38 044) 490 36 60
Office hours: Monday to Friday: 9am to 5pm
For more information please visit British Embassy Kyiv website.
Emergency services numbers
101 – Fire
102 – Police
103 – Ambulance
112 – Emergency
Further information
International airport Boryspil
International airport Kyiv (Zhulyany)
Kyiv city administration (tourist information)
Published 19 February 2016