News story
Benfica vs. Chelsea: Travel Advice
Advice for fans travelling to Amsterdam for Chelsea's Europa League match with Benfica on 15 May 2013.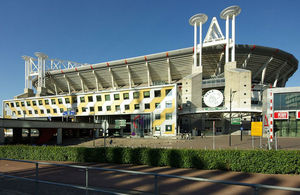 Date: 15 May 2013
Venue: Amsterdam Arena
Kick off time: 20:45 (local time)
As well as this advice, check out our travel advice for the Netherlands
Passports and visas
You don't need a visa to travel to the Netherlands, but your passport should be valid for the proposed duration of your stay; you do not need any additional period of validity on your passport beyond this.
Remember your European Health Insurance Card (EHIC) but also take out travel insurance, even if you're only going for one night - it could save you a lot of money if you get into difficulties.
It is necessary to carry ID with you at all times.
If you lose your passport, or have it stolen, you will need to obtain an Emergency Travel Document from the British Consulate-General in Amsterdam. Here is the link to advice on what you will need to bring with you.
Getting to the stadium
Take a train from Central Station to Duivendrecht: change for train to the Arena
Thomas Cook are arranging travel for Chelsea supporters club
More information on transport in Amsterdam can be found on Iamsterdam
At the match
The North Side stand has been allocated to Chelsea fans who will be seated in:
Sectors 112 to 119 on the lower tier.
Part of 413 and all of 414 to 417 of the upper tier.
Stewards will conduct a full search before allowing supporters through turnstiles. Arrive by 19.30.
In addition to items which would usually be prohibited in the UK, please note the following restrictions at the stadium:
Large amounts of loose change and lighters may be confiscated and are unlikely to be returned.
No bottles and cans are allowed to be brought into the ground and alcohol is banned within the stadium.
Flags and banners without poles are allowed subject to size.
Musical instruments are permitted.
Visiting supporters will be kept behind for around 15 minutes after the match to allow the home fans to disperse.
Tips
As in any other city beware of pickpockets and bag snatchers at airports, railway stations, around the town centre and when using public transport. Only carry what you need, leave spare cash and valuables in hotel safety deposits.
Photo identity must be carried at all times in the Netherlands.
Urinating in the street is an offence and fines will be issued.
British Consulate-General
Koningslaan 44
1075 AE Amsterdam
Netherlands

During the day: 0031-20-6764343; Out of hours: 0031-70-4270262
British Consulate-General webpage
Emergency services numbers
Fire/Police/Ambulance Emergency: 112 Non-Emergency: 0900-8844
Further information
Follow @FCOTravel on Twitter
Published 10 May 2013