World news story
Canada Travel Advice for Invictus Games
Updated information and travel advice for British Nationals travelling to Toronto, Canada for the 2017 Invictus Games.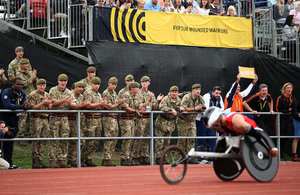 The Invictus Games takes place from 23-30 September at various venues in Toronto, Ontario Canada. This page has useful information and tips for supporters travelling to Canada. If you're visiting Canada, you should review the Foreign Office's travel advice. It includes information on entry requirements, health and local laws.
Passports and visas
your passport should be valid for the duration of your stay. You don't need any additional period of validity on your passport beyond this
if you're travelling by air you'll need to get an electronic travel authorisation (e-TA). For full details please visit our Travel Advice page
Health
you should take out comprehensive travel insurance; even if you are only going for one night – it could save you a lot of money should you get into difficulty; your European Health Insurance Card (EHIC) isn't valid in Canada
visit your GP or travel health professional before your trip to check what vaccinations you need
take enough medical supplies for the duration of your visit and any unexpected delays. Medical supplies may be subject to supply constraints
Check the National Travel Health Network and NHS Choices advice about travelling with medicines
12 cases of human West Nile Virus have been reported this year to date in Ontario. You will find it helpful to check Ontario Health to take precautionary measures
Sports venues
for information about venues and how to get there please visit Invictus Games Venues
you should carry a form of identification with you at all times
taking public transit and using active modes of transportation such as walking or cycling will be the best ways to get around when visiting venues in Toronto's downtown core. Parking will be limited or unavailable at most venues and spectators are strongly encouraged to avoid driving to venues
accessible transit and/or limited accessible parking options for all games venues will be available
At the games
access to venues can take time - there will be ticket checks and/or body searches at entrances of some of the venues
the restrictions in place for venues are similar to ground regulations in the UK sporting venues as in any other city beware of pickpockets etc. at airports, around the town centre and when using public transport
General travel advice
only carry what you need, leave spare cash and valuables in hotel safety deposits
don't leave passports in rental cars, especially in the boot
you should be mindful of Ontario alcohol laws. The legal drinking age in Ontario is 19. Driving while intoxicated is not tolerated, and can be met with extremely heavy penalties
About Toronto
Toronto wholeheartedly celebrates its status as one of the world's friendliest and most culturally diverse cities. As the largest city in Canada, and the fourth largest in North America, Toronto offers a wide variety of shopping, dining, and arts and culture experiences for everyone.
Toronto's surrounding region is home to 6.1 million people, all living within an hour's drive of the Games area. Located on the picturesque shores of Lake Ontario, Toronto is the heart of Canada's most populous region and just over an hour's drive from the American border.
Further information
British Consulate-General Toronto
777 Bay Street, Suite 2800
Toronto Ontario M5G 2G2
Canada
Public access is by appointment only.
Published 7 September 2017