World news story
Canada travel advice for Davis Cup 2017
What you should know if you plan to attend the Davis Cup World Group tie between Canada and Great Britain in Ottawa.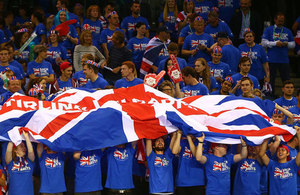 From 3 to 5 February 2017, Ottawa will host the Davis Cup World Group first-round tie between Canada and Great Britain. All matches will take place indoors at The Arena at TD Place.
This page has useful information and tips for tennis fans travelling to Canada for the matches.
You should also review the Foreign Office's travel advice. It includes information on safety and security, entry requirements, health, and local laws.
Venue information
All matches will be played indoors at The Arena at TD Place. The Arena is located at 1015 Bank Street. It's part of Lansdowne Park which is south of Ottawa's downtown in the Glebe neighbourhood. You can find general venue information by visiting TD Place's website.
You should arrive at the venue early and expect security checks at the entrances.
Public transportation to the arena is offered by OC Transpo.
Taxi service is also available and you can buy underground onsite parking.
You can find more information about Ottawa below.
Tickets
Ticket options for Great Britain fans include:
Ottawa
Located in the province of Ontario, Ottawa is Canada's capital city and home to many of the country's national institutions. By car it's 5 hours northeast of Toronto and 2 hours west of Montreal.
Generally a very safe and accessible city, Ottawa is a popular tourist destination year round. The Davis Cup match coincides with the opening of Ottawa's annual Winterlude festival and Canada's year-long 150th anniversary celebrations, so you should expect the capital to be particularly busy during this period.
Arriving by air
The Ottawa Macdonald–Cartier International Airport is around 15 km south of downtown Ottawa. The airport has one passenger terminal and is served by all of Canada's major airlines and many international airlines.
There's a daily direct flight from London Heathrow and a number of other flight options from the UK connecting through other cities in Canada.
Getting to and from Ottawa airport:
by car – the airport is located at 1000 Airport Parkway Private and is accessible by taking Bronson Avenue and then the Airport Parkway from downtown. The airport is about 20 minutes from downtown, but travel time can vary greatly depending on traffic. Car hire companies are located in the parkade across the street from the terminal.
by bus – OC Transpo offers regular service between the airport and downtown.
by taxi – taxis are available at the arrivals level near the central exit. The average fare from the airport to downtown is $35. All destination fares are calculated by meter. Adapted taxis for those with limited mobility are available. Most credit cards are accepted.
ride share - Uber is available from the Ottawa airport. Pick up is at the rideshare loading zone, located at Pillar 12 & 13 on the Arrivals level along the outer lane.
Climate
Ottawa's temperature in early February is generally well below 0°C and extreme cold (below -20°C) is fairly common.
Dress for winter conditions; this includes: insulated boots, heavy winter coat, a winter hat which covers your ears, and gloves. Exposure to cold temperatures can lead to health complications caused by frostbite. You can find more information on the City of Ottawa's website.
Significant snowfalls are also common during February in Ottawa. Monitor local weather alerts and adjust your travel plans if poor weather is expected.
Useful links
Published 10 January 2017