World location
UK and Uzbekistan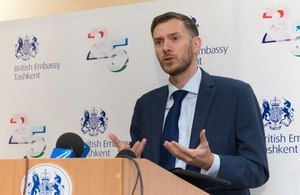 The British Embassy in Tashkent celebrates 25 years of UK-Uzbekistan relations.
Our mission
We represent the UK government in its relations with the Uzbek government. We support the full range of British interests in Uzbekistan through mutually beneficial co-operation. We deal with a wide range of political, commercial and security questions of interest to the UK and Uzbekistan.
Documents
Organisations
Foreign & Commonwealth Office
We develop and maintain relations between the UK and Uzbekistan. Our work covers a range of issues including the economy and international security.