World location
UK and Nepal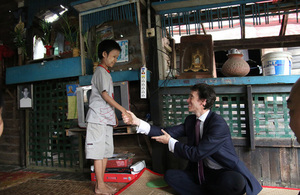 Rory Stewart visits Burma, Bangladesh, Nepal and Afghanistan on first trip to the region since becoming International Development Minister.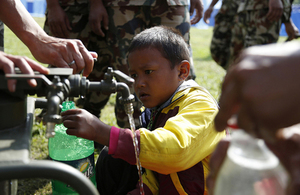 On World Water Day the UK announces an extra £4.5m to fund water and sanitation work in earthquake-affected districts in Nepal.
Our mission
A peaceful, democratic and inclusive Nepal, with dynamic growth, respect for human rights and continued strong partnership with the UK.
Continued recruitment of Gurkhas and partnership between the Nepalese and British armed forces
Use the 200th anniversary in 2015/16 to strengthen bilateral cooperation further, especially on the "green" agenda
To provide a high quality and fair service to visa applicants whilst controlling migration to the UK effectively
We support development in Nepal through:
DFID's work on wealth creation, service delivery, governance, disaster response, climate change, health.
British Council's work to support cultural relations, and ELT standards and exam reform in education
British Embassy's small projects funds
Documents
Organisations
Foreign & Commonwealth Office
We develop and maintain relations between the UK and Nepal.
British Embassy Kathmandu
PO Box 106
Lainchaur
Kathmandu
Kathmandu
Nepal
Monday to Thursday 0815 – 1230/1330 – 1700hrs
Friday 0815 – 1315hrs
Department for International Development
We work in Nepal to improve efforts to reduce political instability, boost economic growth and economic inclusion, provide basic services and increase resilience to natural disasters.
DFID Nepal
British Embassy
PO Box 106
Kathmandu
Nepal