Press release
UK concludes chairmanship of global business best practice initiative
Minister James Duddridge opens plenary of the Voluntary Principles on Security and Human Rights Initiative, concluding the UK's chairmanship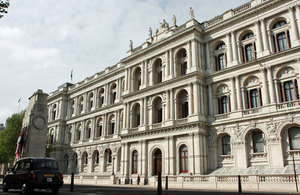 On 17 March, Minister with responsibility for Conflict Issues James Duddridge opened the Annual Plenary Meeting of the Voluntary Principles Initiative in London. Around 150 figures, representing governments, extractive companies and non-governmental organisations participating in the Initiative, were in attendance.
The Plenary marks the conclusion of the UK's year-long chairmanship of the Initiative, and coincides with the publication of the Annual Report of the Voluntary Principles. During the Plenary, participants will discuss security and human rights challenges, and share best practice.
During its tenure, the UK has worked to promote awareness of the Voluntary Principles, particularly amongst governments around the world where oil, gas and mining companies are operating, which are not yet members of the initiative. It has prioritised strengthening dialogue between governments, civil society and extractive companies, to ensure that the Principles continue to be an effective tool for the management of security and human rights risks. During the UK's chairmanship, Ghana became the first African government to join the Voluntary Principles. The UK has also participated in workshops in Mozambique, Kenya and Angola, to raise awareness of the Voluntary Principles. Angola has since publicly committed to joining the initiative.
Speaking at the opening, Minister Duddridge said:
The Voluntary Principles are an essential tool, helping us work with our partners in government, business and civil society, to deliver the UK's foreign policy priorities, namely our shared security, our shared values and our shared prosperity.
The Voluntary Principles provide guidance on responsible business practices to oil, gas and mining companies. This includes advice on how to conduct effective risk assessments and engage with public and private security providers in order to mitigate the risk that security around their operations might contribute to human rights abuses or violent conflict.
Further information
For more information, visit the Voluntary Principles website
The 2014 annual report, which details our work to support the Voluntary Principles and strengthen the initiative, can be found here:
2014 UK Annual Report on the Voluntary Principles on Security and Human Rights (PDF, 138KB, 5 pages)
Voluntary Principles infographic (PDF, 154KB, 1 page)
Published 17 March 2015