World news story
UEFA Nations League Bosnia and Herzegovina v Northern Ireland travel advice
Travel advice for supporters travelling to Sarajevo for the Bosnia and Herzegovina v Northern Ireland UEFA Nations League match on Monday 15 October 2018.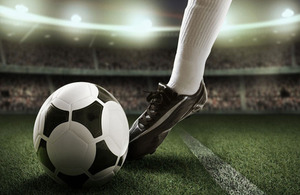 Date: Monday 15 October
Venue: Grbavica stadium, Sarajevo
Kick off time: 8.45pm (local time)
As well as this advice, check out our travel advice for Bosnia and Herzegovina
Passports and visas
you don't need a visa to travel to Bosnia and Herzegovina, but your passport must be valid for full three months after the period you intend to stay in the country
British Nationals are allowed to enter and stay in Bosnia without a visa for a maximum of 180 days within 6 months, provided you have a valid passport
if you're staying in Bosnia and Herzegovina for less than 72 hours, there's no need to register your stay with the Services for Foreigners
if you're staying for more than 72 hours, you'll need to register with the Services for Foreigners. Anyone staying in a hotel, hostel or a motel should be registered by default, so there's no need to do anything. If you're staying in a private accommodation, ask your landlord to help you with registration if necessary. You can register online here
your European Health Insurance Card (EHIC) is NOT valid in Bosnia and Herzegovina, so comprehensive travel insurance is essential, even if you're only going for one night - it could save you a lot of money if you get into difficulties
you must carry a photo ID with you at all times – please make sure you keep your passport safe and rather carry a copy of it
if you lose your passport, you'll need to get an Emergency Travel Document (ETD) from the British Embassy Sarajevo. You'll need to supply a police report for stolen passport, travel itinerary and one photo. The fee is £100 (payable by debit/credit card only) or BAM 233.00 (local currency, payable in cash only)
Getting to the stadium
Northern Irish supporters will be based in Sarajevo in the days before the match and on the match day, they will meet at Café Tito
the police will accompany the fans all the way from Café Tito to Grbavica Stadium once the gates open
traffic will be blocked in the area around Grbavica Stadium (Grbavica and Hrasno areas)
At the match
Northern Irish supporters will be in separate area of the stadium
access to the stadium should be easy - there will be ticket checks and body searches at the entrance to the turnstiles
in addition to items which would usually be prohibited in the UK, the following restrictions will apply at the stadium: no bottles and cans are allowed in the ground and alcohol is banned within the stadium; everyone will be searched at the entrance
Tips
As in any other city beware of pickpockets and bag snatchers at airports, railway stations, around the town centre and when using public transport - only carry what you need and leave spare cash and valuables in hotel safety deposits.
Contact the British Embassy in Sarajevo
British Embassy Sarajevo
Hamdije Cemerlica 39a
71000 Sarajevo

Telephone +387 33 282 200 (also for out of hours emergencies)
Office hours: Monday to Thursday: 8.30am to 5pm and 8.30am to 2.30pm on Friday
For more information please visit the British Embassy Sarajevo website
Emergency services numbers
Police 122
Fire 123
Ambulance 124
Breakdown assistance 1282
Further information
Published 10 October 2018