News story
This week at the Foreign Office
A look at the work of the Foreign Office and its embassies overseas this week.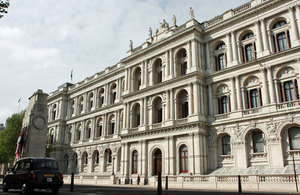 Tunisia
Foreign Office Minister Alistair Burt has condemned the killing of Chokri Belaid, Secretary General of the Democratic Patriotic Party. Minister Burt said: "I condemn the murder of Chokri Belaid in the strongest terms. This was a cowardly and barbaric act aimed at destabilising Tunisia's democratic transition."
British Ambassador to Tunisia, Christopher O'Connor, has written a blog on the death of Chokri Belaid.
Falkland Islands
The Foreign Secretary re-affirmed the UK's support for the Falkland Islands this week in a meeting with Jan Cheek and Dick Sawle of the Falkland Islands Legislative Assembly at the FCO in London.
The Foreign Secretary said: "I welcome the forthcoming referendum in March. This will be a chance for the people of the Falkland Islands to express their views about how they wish to be governed, and in a democratic and incontestable way without other people speaking for them. They have the British Government's full support."
Somalia
Foreign Secretary William Hague met President of Somalia Hassan Sheikh Mohamud on the final day of the President's visit to London. The Foreign Secretary welcomed the progress made in Somalia, and promised UK support, particularly on the President's immediate priorities of security, justice and public financial management, which will be the focus of the Somalia Conference later this year.
Mali
On 5 February, A "Friends of Mali" meeting in Brussels reiterated international support to Malian efforts to restore peace and security to the country. UK Special Envoy to the Sahel, Stephen O'Brien, joined members of the Malian government and representatives from the wider international community at the meeting of the Support and Follow-up Group on the Situation in Mali
Defence
Foreign Secretary William Hague and Defence Secretary Phillip Hammond have published a new strategy outlining how international defence engagement will be better focused towards contributing to wider government objectives. Defence assets and activities play an essential and unique role in delivering the UK's strategic aims, complementing diplomatic, development, intelligence and trade promotion tools.
Also this week
Published 8 February 2013