News story
Foreign Secretary meets President of Somalia
Foreign Secretary William Hague today met the President of Somalia Hassan Sheikh Mohamud on the final day of the President's visit to London.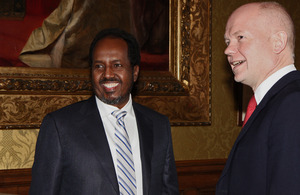 The Foreign Secretary welcomed the progress made in Somalia, and promised UK support, particularly on the President's immediate priorities of security, justice and public financial management, which will be the focus of the Somalia Conference. The President and the Foreign Secretary discussed the mandate of the African Union Mission in Somalia (AMISOM) and plans to develop the Somali security forces as well as the contribution diaspora groups might play in the reconstruction of the country and the importance of finding a political settlement with armed groups.
They agreed to work together on preventing sexual violence, in the context of the FCO's Preventing Sexual Violence Initiative. The Foreign Secretary raised the UK's particular concern about the current case of a woman who alleged to a journalist that she had been raped by security forces, and the legal proceedings against them both. The Foreign Secretary emphasised the importance of victims of rape or sexual violence feel able to report such crimes, and of due process being followed in this case.
Following the meeting, the Foreign Secretary said:
"Somalia has been through a dramatic shift over the last year. This first visit to the UK by the President in his official capacity is another important step in the country's progress towards stability and security.
"There is now a unique opportunity for Somalia to move on from the problems of the past. The UK is delighted to be co-hosting an international conference on Somalia later this year. This will help to provide and coordinate international support for the Government of Somalia's priorities as they continue to rebuild their country after two decades of conflict: creating stability and security; and strengthening government and Somali institutions."
Further information
Visit of President of Somalia to the UK on Storify
Follow UK in Somalia on Twitter and Facebook
A blog by Ambassador to Somalia Matt Baugh, follow the Ambassador on Twitter
Published 5 February 2013