News story
Professor Robin Grimes appointed as Foreign Office Chief Scientific Adviser
Professor Robin Grimes has been appointed as the new Chief Scientific Adviser to the Foreign and Commonwealth Office, starting in February 2013.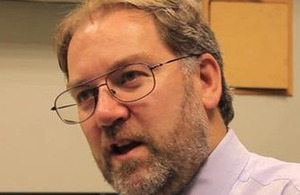 Professor Grimes succeeds Professor David Clary FRS, who was the first FCO Chief Scientific Adviser, holding the post since August 2009.
Professor Grimes is currently Professor of Materials Physics at Imperial College, Director of the Centre for Nuclear Engineering at Imperial College, and Director of the Rolls-Royce University Technology Centre for Nuclear Engineering. He is a Fellow of several learned societies including the Institution of Nuclear Engineers and the Institute of Physics.
As a nuclear energy specialist, Professor Grimes has advised the House of Lords Science and Technology Committee's inquiry into nuclear research requirements, and was part of the Scientific Advisory Group for Emergencies (SAGE) which provided official advice on the 2011 Fukushima disaster. He has considerable experience of high-level international work with HMG science and policy colleagues, including overseas missions to Vietnam, Malaysia and Japan.
The FCO role is part-time, allowing Professor Grimes to continue academic work.
Working as part of a Whitehall network of Departmental Chief Scientific Advisers, and drawing on the support of the HMG Science and Innovation Network, the FCO Chief Scientific Adviser provides advice to the Foreign Secretary, Ministers and officials on science and innovation in foreign policy across the FCO's three priorities (Prosperity, Security, Consular Services ).
The FCO Chief Scientific Adviser enhances departmental capability to strengthen key policies with scientific evidence (e.g. around climate change and energy, counter-proliferation and polar regions), broadens the UK diplomatic contact network in the scientific community, and creates opportunities for constructive engagement with high-tech business in support of UK prosperity and growth.
Commenting on the appointment, the Foreign Secretary said:
"I am delighted to welcome Professor Robin Grimes to the FCO. I am confident that Professor Grimes will build on the excellent work begun by Professor David Clary as Chief Scientific Adviser. Britain is a global leader in science and Professor Grimes's appointment offers the opportunity to couple our international work on science and innovation with efforts to promote the UK's long-term prosperity and growth."
Professor Robin Grimes said:
"I am thrilled to have been given the opportunity to work with the FCO, helping to put science and technology at the heart of foreign policy. I see real potential for the FCO to expand the use of its science and innovation capability at home and overseas and will be at the forefront of this effort as the new Chief Scientific Adviser."
Further information
Published 7 February 2013