World news story
RSC Anderlecht v Celtic FC Travel Advice
Travel advice for Celtic FC fans travelling to Belgium for the RSC Anderlecht v Celtic FC match on Wednesday 27 September 2017.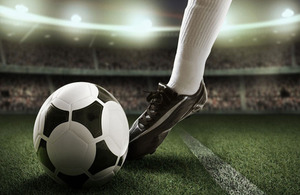 Advice for fans travelling to Belgium for Celtic FC's match with RSC Anderlecht on Wednesday 27 September 2017
Date: Wednesday 27 September 2017
Venue: Constant Vanden Stock Stadium, Av Theo Verbeecklaan 2, 1070 Brussels
Kick off time: 8:45pm (local time)
As well as this advice, check out our travel advice for Belgium
Passports and visas
you don't need a visa to travel to Belgium, but your passport should be valid for the proposed duration of your stay

remember your European Health Insurance Card (EHIC) but also take out travel insurance; even if you're only going for one night - it could save you a lot of money if you get into difficulties

you must carry ID with you at all times

if you lose your passport, you'll need to get an Emergency Travel Document from the British Embassy in Brussels
Getting to the stadium
The Constant Vanden Stock Stadium is located in Anderlecht, a residential area in the south-west of Brussels, approximately 5kms from the city centre. It is a 35-minute walk and about 3 kms from Brussels South Station (Zuid/Midi), a mainline railway station.
if you're travelling to the stadium by supporter coach, you should make your way to the stadium and park the coach at the stadium for the day. The coach park is directly outside the stadium; there is no other parking available for coaches within the city

if you're travelling to the stadium from the city centre, you'll need to take a metro train from De Brouckere station in the centre, to Veeneyde Metro station near the stadium. De Brouckere is located approx. a 5 min walk from the Market Square (Grand Place/Grote Markt)

there is no parking available at the stadium for private cars
Note that if you don't have a ticket for the match, you should NOT go to the stadium
At the Match
on arrival at the stadium there will be several ticket checks; a visual ticket check, a second at the perimeter which will be heavily policed and the last at the turnstiles for entry

fans will occupy Sections S5 and S6 on the lower tiers and S16 and S17 in the upper; disabled fans will occupy Section S4 in the lower tier and can access the stadium at the gates adjacent to the visiting fans turnstiles

the stadium isn't new but well served with toilet and refreshment facilities that are clean and in good condition; there are plenty of food and drink outlets inside and outside the stadium; cash is accepted

please note that security in Belgium is currently at a high level and security measures can change daily; you should respect and adhere to any instructions given to you by officials and don't leave luggage or bags unattended at any time; searching will be thorough – so you should respect the staff at this time; both searching and ticket checks will take place at the point of entry

all flags will be allowed as long as they are less than 1.8 metres; there's a small area for Celtic fans so there will be limited opportunities to hang banners, excessively large banners will not be permitted; it's common policy and normal ground rules at football stadiums in the UK and elsewhere in Europe that flags of an overtly religious, sectarian or political nature won't be permitted and may be confiscated; you should respect this request

as per all UEFA competition rules, the sale, possession and consumption of alcohol is forbidden inside the stadium

usual forbidden items apply and you should abide by the ground regulations at all times. Prohibited items include pyros, for which the fines are very high

there will be strict segregation for the match and all fans are requested to follow the advice of police and stewards at all times
Tips
as in any other city beware of pickpockets and bag snatchers at airports, railway stations, around the town centre and when using public transport - only carry what you need and leave spare cash and valuables in hotel safety deposits
How to contact the British Consulate in Brussels:
Avenue d'Auderghem 10
1040 Brussels
Belgium
Email : consularsection.brussels@fco.gov.uk
Telephone : + 32 2 287 62 11 - 24/7 (also for out of hours emergencies)
Office hours (Monday to Friday): 9am to 1pm and 2pm to 5pm
For more information please visit British Embassy Brussels
Emergency numbers
emergency calls to numbers such as 100, 101, 103, 107, 110 and 112 are free. Numbers beginning with 0800 are also free

pan-European number for all emergencies: 112. The unique benefit of the 112 number is that it can be called from any telephone, including mobiles without a SIM

`the operators in Belgium will typically speak English, French, Dutch and sometimes German, and you will need to supply the exact location, address and details on the accident and wounded people; don't hang up until you've been helped
Police: 101
Fire brigade: 100
Red Cross ambulance: 105
Anti-poison centre: 070 245 245, 24/7 urgent medical aid and advice on drugs, medication, poisons and etc…
Useful links
Published 26 September 2017