World news story
First World War Centenary 2017: advice for travellers to Belgium
Advice for a trouble free visit to First World War Centenary Commemorations.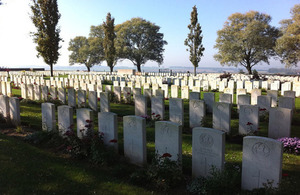 Overview
With so many events due to take place in Commonwealth War Grave sites and other areas across Europe, including Belgium, the Foreign and Commonwealth Office has collated some useful travel advice to make planning your trip easier. Some locations will become extremely busy at certain times of the year, and some may have access restrictions. Check out our information and further details on linked sites to discover all you will need to know to ensure your trip is safe and trouble free.
Specific advice for commemorations
Before travelling to a commemoration site or event we encourage all travellers to:
do your research before you go – some sites will be closed for private ceremonies or for cemetery maintenance; the Commonwealth War Graves Commission (CWGC) web page has more information on dates and locations

be aware that unexploded ammunition can still be found in the battlegrounds – do not touch or pick anything up if you are not sure what it is

be aware that the roads around commemoration sites will be busy and possibly congested – pay extra care while driving and make sure you familiarise yourself with the local driving laws and customs before you travel - please see some tips on driving in Belgium

be prepared for warm weather conditions – carry plenty of drinking water and items such as sun cream or a sun hat to protect yourself from the sun

tune in to local radio while driving to catch weather and traffic reports
General advice for travelling in Europe
Some things to bear in mind when travelling in Europe:
check that your passport is valid for the duration of your trip

keep your passport somewhere safe – take a photocopy of the details page and consider storing this information on a secure online data storage site

remember that the number for emergency services throughout Europe is 112 – store this in your phone

carry your European Health Insurance Card (EHIC) – this proves your entitlement to reduced cost healthcare if you need medical attention

the EHIC does not cover the entire cost of hospitalisation, and it does not cover repatriation should that become necessary; take out comprehensive travel insurance before you travel and be sure to declare any pre-existing medical conditions
Passchendaele
The UK national commemorative events to mark the Centenary of Passchendaele are organised by the Department for Culture Media & Sport (DCMS). Information (including travel advice) can be found on their web pages First World War Centenary and Passchendaele100.
Messines
For more information on the commemoration of the Battle of Messines visit the web page of the Northern Ireland Office Battle of Messines.
Langemark
The Welsh Government is organising a national commemoration service on 31 July 2017 at the Welsh Dragon Memorial in Langemark (near Ypres).  Information on this event can be found on the Wales Remembers web page.  You can also contact the organisers by phone  +44 (0)300 062 2112 or  email: cymruncofio-walesrem@wales.gsi.gov.uk
Useful links
Check out our Travel Advice for Belgium.
Also check out our Foreign Travel Checklist with advice from the Foreign and Commonwealth Office (FCO) to help you prepare for foreign travel and stay safe abroad.
You can get your free EHIC card by visiting the NHS travel site.
If you need more detailed information on travel insurance visit the Association of British Insurers (ABI) travel insurance page. If you need help finding insurance for your trip, you can contact the British Insurance Brokers' Association. You can also find more information on Gov.uk.
If you lose your passport, you'll need to get an Emergency Travel Document from the British Embassy in Brussels.
If you are travelling to Belgium, the Commemoration of the First World War in Belgium web page has useful information available in English.
The following Belgian sites contain information about the centenary commemorations:
Published 2 June 2017