World news story
FC Basel v Manchester United FC travel advice
Travel advice for Manchester United FC fans travelling to Basel for the FC Basel v Manchester United FC match on Wednesday 22 November 2017.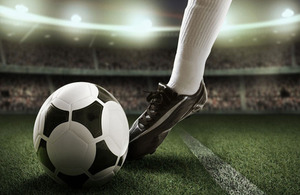 Date: Wednesday 22 November 2017
Venue: St Jakob Park Stadium, Basel
Kick off time: 8:45pm (local time)
As well as this advice, check out our travel advice for Switzerland
Passports and visas
if you're a British Citizen or a British Subject with Right of Abode in the United Kingdom, you won't need a visa to enter Switzerland. If you have any other type of British passport, you should check entry requirements with the nearest Swiss Diplomatic mission
your passport should be valid for the proposed duration of your stay. No additional period of validity beyond this is required
keep your passport safe. In case of lost or stolen passports, apply for Emergency Travel Document online
remember your European Health Insurance Card (EHIC) but also take out travel insurance, even if you're only going for one night - it could save you a lot of money if you get into difficulties
Getting to the stadium
The stadium, St Jakob Park, which has a capacity for this fixture of 36,000, opened in 2001 and is a modern venue located in the south eastern district on the outskirts of Basel adjacent to the A 2 motorway. The stadium building includes a shopping centre and restaurants.
Airport
Basel Airport is approx. 15 minutes from the city centre with tram number 50 connecting to the city
Zurich is about 1 hr 15 mins by train
Geneva is about 3 hrs by train
Basel City centre
the stadium is approximately 30-40 minutes walk from the city centre
free shuttle buses have been arranged to transport supporters to the stadium. The buses will leave from the road outside the Doll Museum at 6.30pm local time. These buses will only be available to take supporters to the stadium; therefore they will need to make their own way back after the game.

alternatively the tram number 14 can be used from BARFUESSERPLATZ to ST JAKOB, which is the closest tram stop to the stadium. This journey takes about 13 minutes. NOTE: Match day tickets entitle supporters to travel free on match day from approximately 2pm. Public transport stops at 1am

a taxi from Basel city centre to the stadium should cost approximately CHF 25. Note: Swiss currency is the Swiss Franc.
At the match
Manchester United supporters will be located in Block B0, B1 & B2
tickets will be checked by stewards on arrival at the entrance followed by a search by stewards
turnstiles open at 7:15pm – 1 ½ hours before kick-off and supporters are advised to arrive in good time
category One ticket holders will be located at A5
disabled supporters will be located in B2. The entrance for disabled supporters is at the stadium's B/C corner
prohibited items: in particular no bottles, weapons or pyrotechnics will be allowed. Don't bring large items to the ground (bigger than 25x25x25 cm)
anyone drunk or behaving in an inappropriate manner won't be allowed to enter and could be arrested
Tips
there's a low rate of serious crime in Switzerland. However, the British Embassy has recently received increased reports of theft especially in larger cities, at Geneva airport and on trains to/from Geneva
watch out for pickpockets, confidence tricksters and thieves in city centres, airports, railway stations, on trains and in other public places. Don't leave your luggage unattended at any time. Don´t keep your passport, credit cards and other valuables in the same place. Use the inside compartments in bags where possible. Carry your bag across your body rather than on your shoulder. Only carry what you need and leave spare cash and valuables in hotel safety deposits
if you're travelling by train, take precautions against being burgled, especially at night. Pickpockets can work in gangs: one to distract you while the other one goes into your bag. Keep your belongings close to you in restaurants and bars. Alcohol and drugs can lead to you being less alert, less in control, and less aware of your environment. If you're going to drink, know your limit and take sensible precautions. Don't become separated from friends
Contact the British Embassy in Berne
British Embassy Berne
Thunstrasse 50
3005 Berne
Switzerland

Telephone +41 (0)31 359 7700 (also for out of hours emergencies)
Office hours: Monday to Friday: 8.30am to 12.30pm and 1.30pm to 5pm For more information please visit British Embassy Berne website
Emergency services numbers
Public emergency line: 112
Published 20 November 2017