World news story
European Under 21 Football Championship 2017 travel advice
Travel advice for fans travelling to Poland for the 2017 UEFA European Under-21 Football Championship from 16 - 30 June.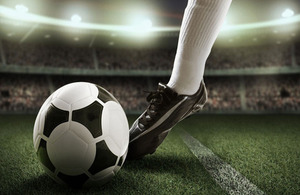 The 2017 UEFA European Under-21 Football Championship will be held in Poland from 16 to 30 June in Kielce, Tychy and Krakow.
As well as this advice, check out our travel advice for Poland
Passports and visas
you don't need a visa to travel to Poland, but your passport should be valid for the duration of your stay; keep your passport safe during your trip
make sure you take your European Health Insurance Card (EHIC) which is valid in Poland; you should also take out travel insurance to cover other eventualities; it could save you a lot of money if you get into difficulties
carry your passport with you at all times for identification purposes as police officers may fine you or take you to the police station to establish your identity if you fail to do so; you should be ready to produce ID at the entrance to the stadium
make copies of your passport and important documents and keep them safe in a separate place to your passport
if your passport gets lost or stolen while you're in Poland, you'll need to get an Emergency Travel Document from the British Embassy Warsaw
you can exchange foreign currency into Polish Zloty at places marked 'kantor'
Getting to the stadium
Kielce City Stadium (also known as the Kolporter Arena)
Multi-purpose stadium in Kielce, Poland located in the central district of Kielce. The full address is:
Ul. Ściegiennego 8, 25-033 Kielce
Tel. +48 41 340 34 26
Fax. +48 41 340 34 15
e-mail: korona.sa@korona-kielce.pl
You can find information about Kielce local transport here
If you're travelling by taxi, use major taxi companies, such as Radio Europa Taxi (+48 41 3133333) or Taxi Kielce (+48 41 33 11111). If you do pick up a taxi on the street, always check the per km price, which should be clearly marked on the side of the taxi, before getting in. Some taxis operating in areas visited by tourists can charge highly inflated prices.
British Embassy contact details
British Embassy Warsaw
ul. Kawalerii 12
00-468 Warsaw
Tel: +48 22 311 0000
Fax: +48 22 3110311
E-mail: Warsaw_consularmail@fco.gov.uk
Opening hours: Mon, Tue, Thu, Fri from 9am to 12.30pm, Wed – closed
Emergency services numbers
Published 13 June 2017