World news story
Austria v Wales (qualifying game for FIFA World Cup 2018) - travel advice
Travel advice for Welsh fans travelling to Vienna for the Austria v Wales match on 6 October 2016.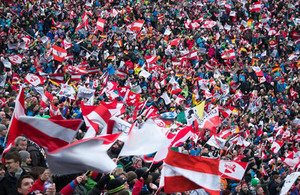 Date: Thursday 6 October 2016
Venue: Ernst Happel Stadion, Vienna
Kick off time: 8.45pm CET
As well as this advice, check out our travel advice for Austria.
Passports and visas
EU nationals do not need a visa to travel to Austria but your passport should be valid for the duration of your stay in Austria. Remember your European Health Insurance Card (EHIC) but also take out travel insurance: even if you're only going for one night, it could save you a lot of money if you get into difficulties.
Under Austrian law, you are required to have your passport readily accessible at all times. In practice this can mean leaving it in your hotel safe. Generally tourists are advised not to carry their passport around with them but to carry a photocopy of it instead.
Should you need your passport in combination with your game ticket for stadium access (check your ticket for relevant information), please keep it safe, preferably in a secure pocket on your body.
Please note that a UK driving licence is not recognised as an official form of ID.
If you lose your passport, you will need to get an Emergency Travel Document from the British Embassy in Vienna. You will need to supply a police report (if the passport has been stolen) or a lost report (if the passport has been lost/mislaid – available from any of 23 lost property offices in the Vienna area), flight reservations, and other photo ID you might hold, and one passport photo. Payment is only possible by MasterCard or Visa. Should someone else pay on your behalf, the cardholder should also bring photo ID. Current fees are available here.
Getting to the stadium
Ernst Happel Stadion is located about 3.5km east of Vienna's inner city, on the edge of the Prater Park, close to the Danube river. Vienna's famous ferris wheel, also in the Prater Park, lies about 2.5km north-west of the stadium.
The stadium can be easily and best reached with metro line U2: "Stadion" station lies right next to the Ernst Happel Stadium. Line U2 runs along the northern and western edge of Vienna's city centre.
Alternatively the Happel Stadium can also be reached by bus – either bus line 77A from "Schlachhausgasse" station (on metro line U3) via Stadionalle and Meiereistrasse to "Stadion" station, or bus line 11A with its final stop "Stadion" (e.g.from "Vorgartenstrasse" station on metro line U1).
By car, from the A4 (which runs along the small Danube branch and connects with the A23), drive towards Vienna's city centre and take the B221 exit toward Erdberg. Turn right onto the Stadionallee and follow until reaching the stadium.
Address: Meiereistraße 7, A-1020 Vienna
At the match
Away fans are usually housed within the south-east corner of the stadium within Sector F which is the one clearly marked by the use of yellow seats.
For international matches involving Austria the standard allocation normally is around 3,000 tickets which fills up the third tier of Sector F.
Access to the stadium can be slow as there will be ticket checks and body searches at the entrance to the turnstiles. Get to the stadium early – around two hours before kick-off is recommended.
Visiting supporters might sometimes be kept behind for around 15 minutes after the match to allow the home fans to leave. Please listen to any public announcements made in that respect during the match and act upon the given instructions.
Tips
As in any other city, beware of pickpockets and bag snatchers at airports, railway stations, around the town centre and when using public transport. Only carry what you need and leave spare cash and valuables in hotel safety deposits.
Contact the British Embassy in Vienna
Jaurèsgasse 12 1030 Vienna Austria
Telephone +43 (1) 71613-0* (also for out of hours emergencies)
Office hours: Monday to Friday: 9.15am to 12.30pm
For more information please visit the British Embassy Vienna website.
Emergency services numbers
Police: 133
Ambulance: 144
Fire Brigade: 122
European Emergency Number: 112
Published 13 September 2016