World location
UK and Rwanda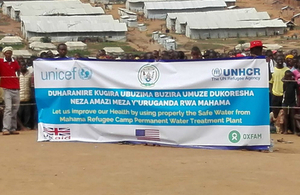 UK Aid in partnership with WaterAid and Oxfam is making significant contribution to providing Rwandans with access to safe water.
Our mission
We aim to help Rwanda's development into a democratic, prosperous country, with good governance and respect for human rights, playing a responsible role in the region's politics including in support of peacekeeping. In so doing, we seek to improve possibilities for UK trade and investment, supporting Rwanda's own goal of becoming a middle income country.
Documents
Organisations
Foreign & Commonwealth Office
The British High Commission in Rwanda is responsible for developing and maintaining relations between the UK and Rwanda.
British High Commission Kigali
Parcelle No 1131, Boulevard de l'Umuganda
Kacyiru-Sud
Kigali
Kigali
BP 576
Rwanda
Email BHC.Kigali@fco.gov.uk
Telephone +250 252 556 000
Fax +250 252 582 044
Consular assistance (24 hour) +250 252 556 000
Access and opening times
Department for International Development
We work in Rwanda to support progress in achieving the Millennium Development Goals (MDGs) and help economic growth and wealth creation.
DFID Rwanda
British High Commission
Parcelle No. 1131
Boulevard de I'Umuganda
Kacyiru Sud
BP 576
Kigali
Rwanda