World location
UK and Zambia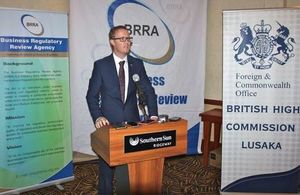 Acting British High Commissioner Andrew Hamilton says a conducive regulatory environment will help Zambia to attract increased local and foreign...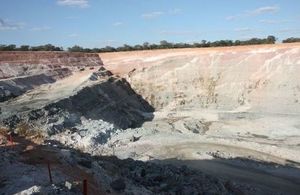 DFID's Economic Development Strategy sets out how Britain will establish new trade, investment and economic links and end global poverty.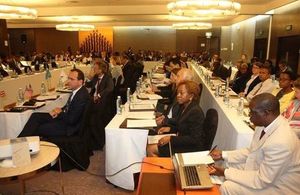 British High Commissioner Fergus Cochrane-Dyet OBE says the UK and other health cooperating partners are committed to improving the health and...
Our mission
We work closely with the government and people of Zambia for our mutual benefit, representing the UK and supporting UK interests in Zambia, including commercial interests.
We deal with a wide range of political, social, economic, investment, trade and security questions of interest to the UK and Zambia, working with the UK's Department for International Development and the British Council. We provide consular assistance to British nationals.
Documents
Organisations
Foreign & Commonwealth Office
The British High Commission in Zambia is responsible for developing and maintaining relations between the UK and Zambia.
British High Commission Lusaka
Department for International Development
We work in Zambia to help achieve the Millennium Development Goals and assist the government to beat corruption and become more accountable.
DFID Zambia
British High Commission
PO Box 50050
15101 Ridgeway
Lusaka
Zambia
Department for International Trade
Department for International Trade (DIT) helps UK-based companies succeed in the global economy. We also help overseas companies bring their high-quality investment to the UK's dynamic economy.
Department for International Trade Zambia
British High Commission
5210 Independence Avenue
Lusaka
Zambia