News story
Use the Charity Commission website to answer your query
Our online guidance and services are available 24 hours a day, 7 days a week.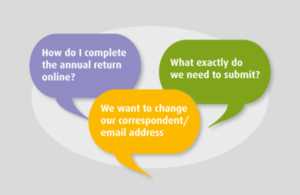 This month your top queries were:
How to change your correspondence or email address
Use our online service to change your charity's details.
How to submit an annual return
You can read our guidance to help you submit your annual return.
How to prepare a charity annual return
You can read our guidance to help you understand what a charity annual return includes, and what information you'll need before you start.
When the 2017 annual return service will be available
We are developing a new, improved annual return service for 2017. The new system will make it easier to file your charity's accounts and will be available to use from 31 August 2017.
We will let you know when the new system is available. Keep a check on this website and our Twitter feed for information.
Response times for general queries
If you have sent a query to the Charity Commission we will aim to respond within 15 working days.
Our contact information and opening times are available on the homepage.
Published 5 May 2017
Last updated 18 July 2017
+ show all updates
Updated to show June's top 5 queries
First published.