News story
Montenegro vs. England: Travel Advice
Advice for fans travelling to Podgorica for England's World Cup Qualifier match with Montenegro on 26 March.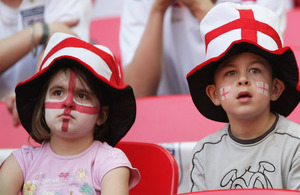 Date: 26 March 2013
Venue: City Stadium, Podgorica, Montenegro
Kick off time: 21:00 (local time)
Passports and visas
You do not need a visa to travel to Montenegro but you must have a valid passport.
Please ensure you take out good travel insurance - it could save you a lot of money if you get into difficulties. Your British passport and a proof of UK health insurance (e.g. your EHIC card) entitles you to free emergency medical treatment in Montenegro.
In Montenegro it is obligatory to carry ID with you at all times – you will also need your England supporter's card to obtain your match ticket at the collection point, on the day of the match. FA representatives will set a temporary collection office on matchday at the Hotel Crna Gora in Podgorica open from 1100 – 18:30 hours
If you lose your passport, or have it stolen, you will need to obtain an Emergency Travel Document from the British Embassy in Podgorica. You will need to supply a police report, flight reservation and one photo. Fee: 115 euro
Local info for Podgorica offered by Tourist Organisation Podgorica, including details of public transport.
At the match
Access to the stadium might be slow. There will be ticket checks and body search. To avoid a last minute bottleneck you should aim to arrive at the stadium early. Keep your passport safe with you.
No bottles or cans are allowed into the ground and alcohol is banned within the stadium. Umbrellas also cannot be taken into the Stadium, so check weather forecast and dress appropriately. Supporters should consult the England supporters' website for a full list of items that are not permitted inside the stadium.
England supporters will use a separate stadium entrance, and will be issued with coloured tickets indicating the position of their seats in the stadium.
Tips
As in any other country beware of pickpockets and bag snatchers at airports, railway stations, around the town centre and at tourist hot spots. Only carry what you need, leave spare cash and valuables in hotel safety deposits and never leave valuables or anything on show in cars.
British Embassy
British Embassy Podgorica
Ulcinjska 8,
Gorica C
Podgorica

Telephone: +382 20 618 010 (24h support for genuine emergencies)
Emergency services telephone numbers
Police : 122
Ambulance: 124
Fire Brigade: 123
Further information
As well as this advice, check out our travel advice for Montenegro.
For the latest updates follow @FCOTravel and @UKinMontenegro on Twitter
Montenegrin National Tourist Organisation for tourist and travel advice
Published 22 March 2013