News story
G8 and developing countries will work together to make the use of natural resources more transparent
The move will help poor people to benefit from their country's oil, gas and mineral deposits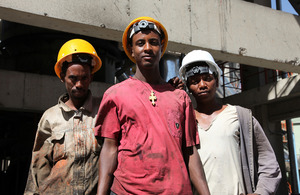 The Prime Minister has announced that the G8 and 15 developing countries have agreed to work together to make sure that the poorest people benefit from their country's natural resources, by improving the transparency of their extractive industries and land rights.
Mr Cameron made the announcement during a panel session with African leaders at the Open for Growth event today (15 June 2013), which focussed on tax, trade and transparency.
A lack of transparency means poor countries are not benefitting as much as they should from their natural resources so that they can fund their own development and fight poverty.
---
See also
---
Many developing countries have vast extractive resources like oil, gas and minerals but they are often sold at below market prices, or the money made is misused or poorly invested.
At the same time unclear land ownership rights and weak systems for managing land creates uncertainty which stops farmers and companies wanting to invest. This in turn threatens food security and increases the likelihood of local conflicts over land.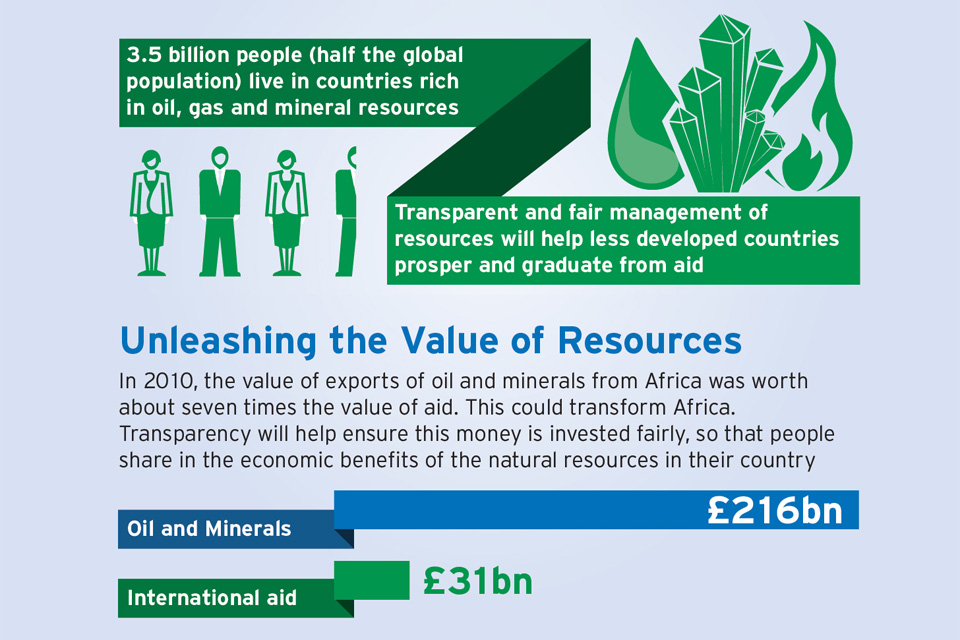 The partnerships announced today will see G8 nations work with 8 developing countries to help them improve the information available around the sale of extractives by:
encouraging companies and countries to adopt the new Extractive Industry Transparency Initiative - where companies publish what they pay to governments and governments disclose what they receive from companies for their extractives resources

strengthening communication between governments, companies and civil society, ensuring that the new information on extractives can be properly used to hold governments to account

introducing stronger legal frameworks to regulate the extractives sector example by introducing new laws that make EITI standards a legal requirement
Another 7 country partnerships will help developing countries implement globally agreed guidelines on land governance and safeguard individuals' and companies' rightful claims to land, to improve transparency and accountability on land deals, by:
supporting local authorities to formally register and protect rights to land

helping countries collect better data on land transactions

helping countries attract high quality investment that benefits the country's economy.
International Development Secretary Justine Greening said:
Lack of transparency is preventing developing countries from benefitting from their valuable resources. When they do not know how much their resources are worth, people and governments have no way of knowing if they are getting a good deal for them.
These partnerships will help developing countries make the most of their valuable resources, attracting the investment and income needed to drive economic growth, fight poverty and, eventually, end their need for aid.
Making information about the buying and selling of natural resources publicly available is vital to tackling mismanagement. If people can see how much their government receives from selling the country's extractive wealth they can question how that money is being spent.
At the same time greater security over land rights means local people can raise capital against their land to improve it while international companies have greater confidence in the security of any investment.
The G8 member states are partnering the following countries to improve transparency around extractives: Burkina Faso (France), Colombia (EU), Ghana (UK), Guinea (USA), Mongolia (Germany), Burma (USA), Peru (Canada), Tanzania (Canada). Private sector and civil society are backing the partnerships include Rio Tinto in, Peru and Mongolia, BG (British Gas) in Tanzania.
The G8 member states are partnering the following countries to improve land registration and security of land tenure for communities and commercial investors: Tanzania (UK); Nigeria (UK) Senegal (France), Burkina Faso (US), South Sudan (EU), Namibia (Germany) and Niger (EU).
Published 15 June 2013