News story
Open for Growth: trade, tax and transparency event
At a major pre-G8 event on 15 June the Prime Minister led a 'call to action' to G8 leaders on tax, trade and transparency.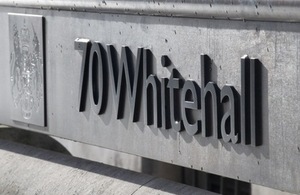 The pre-summit 'Open for Growth' event on 15 June brought together wider discussions on trade, tax and transparency with business, civil society and governments. It focused on why open governments, open societies and open economies are essential for growth, jobs and sustainable development. Discussions centred on how we can work together to promote and practise fairer trade, proper taxes and more transparency in data, land investment, minerals, oil and gas.
Find out more about the G8 summit in Lough Erne, Northern Ireland.
Read the speech made by the Prime Minister to open the event.
Get involved
Follow live updates on Twitter using #G8TTT.
Tax
Danny Alexander, Chief Secretary to the Treasury, chaired a session with representatives from developing countries, leading NGOs, industry representatives and international organisations. They discussed the themes of tax evasion and illicit flows, tax transparency, and tax capacity building in the developing world. The session explored how these issues affect people, businesses and governments worldwide, and how they can best be addressed.
Read a G8 factsheet on tax and proposed actions and view an infographic.
Trade
Vince Cable chaired a session with senior representatives from African governments, economic communities, major companies, and international and African business associations, who discussed the steps that can be taken. The session aimed to identify how the G8 and the international business community can better support Africa's ambition to accelerate investment and trade potential, which can drive poverty reduction.
Read a G8 factsheet on trade and proposed actions and view an infographic.
Transparency
Read a G8 factsheet on transparency and proposed actions and view an infographic.
Find out more about the government's position on transparency and open data.
Land
Political leaders from Europe and Africa, land development partners and leading NGOs joined Justine Greening, Secretary of State for International Development, for a session on land. A lack of transparency surrounding land deals can facilitate corruption and deter productive and sustainable investment in land. The G8 will promote responsible investment, and push for government, private sector and civil society action on more transparent land governance.
Extractives
The Deputy Prime Minister, Nick Clegg, held a session on extractives transparency. This session aimed to inspire partnerships between governments, the private sector, citizens and international bodies to take the practical steps needed to use new information about extractives. This can help build capacity so that oil, gas and minerals are used to drive growth, as countries secure the full benefits of their natural resources and so reduce poverty. There has been recent progress with extractives transparency, and this event will generate momentum for further action.
Open data
Minister for the Cabinet Office, Francis Maude led a session with leaders from government, the private sector and civil society organisations to discuss open data. Read the minister's speaking notes.
Open data challenges
Participants in this event discussed a number of open data challenges around:
releasing data
funding or supporting open data competitions
funding training and products in developing countries
contributing knowledge and skills
tackling global problems
Read the challenges in full.
Recent open data announcements
More about transparency and open data
The UK is currently the lead chair of the Open Government Partnership (OGP) (with Indonesia), until October 2013. The OGP, a partnership between 59 countries and civil society organisations, asks governments to become more open by committing to promoting transparency and access to information to enable citizens to hold their governments to account more easily.
See what data is being released on data.gov.uk.
Published 14 June 2013
Last updated 15 June 2013
+ show all updates
Added link to a transcript of the PM's speech, delivered at the beginning of the event.
Added link to speech made by Francis Maude at the open data breakout session.
First published.