World news story
Europa League Travel Advice: FC Ufa vs Rangers FC
Travel advice for Rangers FC fans travelling to Russia for the FC Ufa vs Rangers FC match on Thursday 30 August 2018.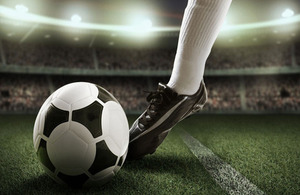 Date: Thursday 30 August 2018
Venue: Neftyanik Stadium
9 Komarova Street, Ufa, 450044
Capacity: 15,234
Kick off time: 7 pm local time; 3 pm UK time
This guidance should be read alongside our travel advice for Russia.
You can sign up for email alerts to be notified of updates to our Russia travel advice before and during your trip.
Passport and visas
You'll need a visa to enter the Russian Federation – make sure you apply for the correct type and duration of visa. For further information, see the Russian Embassy website, Russian Consulate General in Edinburgh and the website of VFS Global who manage Russian visa applications on behalf of the Embassy.
FIFA 2018 World Cup Russia FAN ID holders can travel to Russia using their FAN ID as a visa until 31 December 2018. Further information is available at the FAN ID website.
Before you travel to Russia make sure that you are aware of the terms and conditions attached to your visa for both entry and exit. Overstaying your visa can result in a delay to your departure from Russia, fines, court hearings, and possible deportation and a ban from entering Russia in the future. If you need an extension, you should arrange this before your visa expires.
Your passport should be valid for a minimum period of 6 months after the expiry date of your visa.
Your European Health Insurance Card (EHIC) is not valid in the Russian Federation, so travel insurance is essential, even if you are only going for one night – it could save you a lot of money if you get into difficulties.
You must carry ID with you at all times. Take a photocopy of your passport and visa, and leave this in your hotel room.
All foreign nationals entering Russia must sign a migration card, which is produced at passport control in the airports. The card is in two identical parts. One part will be retained by the Immigration Officer on arrival. You should keep the other part with your passport; you will need it when you leave Russia.
Do not lose your passport whilst you are in Russia. If you lose your passport, you'll need to get an Emergency Travel Document from the British Embassy in Moscow between 9am and 5pm Monday to Friday. You'll need to supply a passport photo, flight reservation details and a police report. The fee for an Emergency Travel Document is £100 payable by Visa or MasterCard. You will also need to obtain a replacement visa – the British Embassy will advise on the process, but it may take time.
If you need to contact the British Embassy during your time in Russia:
Smolenskaya Naberezhnaya 10
121099 Moscow
Telephone number (24/7): +7 495 956 7200 (follow auto recorded prompts to Consular Services)
Office hours: Monday to Friday 9am to 5pm
Getting to Moscow from the UK
There are regular flights between London and Moscow. Direct international flights to Moscow from the UK arrive at either Domodedovo or Sheremetyevo Airport. Indirect flight options departing from Glasgow and Edinburgh Airports are available. ATMs and cash exchange offices are available in the airport and in the city, rates may significantly vary. If you bring cash, it is recommended to take US dollars or euros, as pounds are a rare currency in Russia.
Getting to Ufa from Moscow
Aeroflot, S7, UTair, Nordwind, and Red Wings flights operate between Moscow and Ufa. There are some international flights direct to Ufa from Azerbaijan, Czech Republic, Turkey and United Arab Emirates.
Ufa international airport (UFA) is approximately 34 kilometres south from the centre of the city. Busses 110, 110C, 101 are available at the airport to the city. You can also take a taxi from the official stall in the arrivals lounge. Taxi fares start with approximately 600 Roubles (GBP 8). Don't share a taxi with strangers. You should agree the fare before getting into the taxi.
Getting to the stadium
The Neftyanik Stadium is located in Ordzhonikidzevsky District of Ufa, 34 km from the airport. Public transport and taxis are available from different Ufa locations.
At the match
Fans are asked to arrive at the stadium in good time for security check and ticket checking. The stadium is likely to open the turnstiles 2 hours before kick-off. Kick-off is at 7 pm local.
Entry to the stadium is subject to security checks. Fans may be asked to pass through a body scanner and then searched by a steward and police.
The list of banned items includes alcohol, glass, bottles, cans and Pyros.
Away fans may be asked to remain in the stadium after the game. This may take up to 20 minutes.
No alcohol is allowed at games in Russia and none will be sold in the stadium. It is also forbidden in Russia to drink in public places, so fans are advised not to carry alcohol to the ground.
Tips
As in any other city beware of pickpockets and bag snatchers at the airport, railway stations, around the city centre, at tourist attractions and when using public transport – only carry what you need and leave spare cash and valuables in hotel safety deposits.
British Embassy Moscow
Smolenskaya Naberezhnaya 10
121099 Moscow
Telephone number +7 495 956 7200 (24 Hours)
Office hours: Monday to Friday 9am to 5pm
For more information, please visit our website
Emergency services number
112
Further information:
UK Foreign and Commonwealth Office travel advice for British nationals going to Russia
Published 23 August 2018