World news story
Europa League Travel Advice: FC Rostov v Manchester United
Travel advice for Manchester United fans travelling to Russia for the FC Rostov v Manchester United match on Thursday 9 March.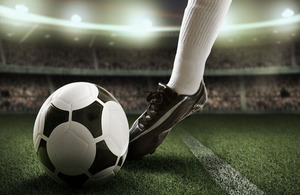 Advice for fans travelling to Russia for Manchester United's match with FC Rostov on 9 March
Date: Thursday 9 March
Venue: Olimp-2 Stadium (Стадион Олимп 2)
Prospekt Sholokhova 33 (проспект Шолохова 33)
Rostov-on-Don (Ростов-на-Дону)
Kick off time: 9.00 pm local time; 6.00 pm UK time
As well as this advice, check out the travel advice for Russia.
Passport and visas
You'll need a visa to enter the Russian Federation – make sure you apply for the correct type and duration of visa. For further information, see the Russian Embassy website and the website of VFS Global who manage Russian visa applications on behalf of the Embassy.
Before you travel to Russia make sure that you're aware of the terms and conditions attached to your visa for both entry and exit. Overstaying your visa can result in a delay to your departure from Russia, fines, court hearings, and possible deportation. If you need an extension, you should arrange this before your visa expires
Your passport should be valid for a minimum period of 6 months after the expiry date of your visa.
Your European Health Insurance Card (EHIC) isn't valid in Russian Federation, so travel insurance is essential, even if you're only going for one night – it could save you a lot of money if you get into difficulties.
You must carry ID with you at all times – you'll need to carry your passport to the match to gain entry to the stadium. Take a photocopy of your passport and visa, and leave this in your hotel room.
All foreign nationals entering Russia must sign a migration card, which is produced electronically at passport control in the major airports. The card is in two identical parts. One part will be retained by the Immigration Officer on arrival. You should keep the other part with your passport; you will need it when you leave Russia.
If you lose your passport, you will need to obtain an Emergency Travel Document from the British Embassy in Moscow between 9am and 5pm Monday to Friday. You'll also need to obtain a replacement exit visa from the Russian Government. The Embassy will advise you on how to obtain this. In order to get a replacement passport, you'll need to supply a passport photo, flight reservation details and a police report if your passport is stolen. The fee for an emergency travel document is £100.
Getting to Rostov from the UK
There are no direct scheduled flights between the UK and Rostov. Fans travelling from the UK will need to fly via Moscow or St Petersburg.
If you're flying British Airways, you'll land at Moscow Domodedovo Airport (Аэропорт Домодедово). Fans flying Aeroflot or Air Baltic, will arrive at Moscow Shermetyevo Airport (Аэропорт Шереметьево). Flights between Moscow and Rostov-on-Don are daily – airlines that fly the route include Aeroflot and S7. Most of these flights depart from Moscow Shermetyevo. Leave yourself plenty of time if you need to travel between Moscow Domodedovo and Sheremetyevo airports.
Trains run between Moscow/St Petersburg and Rostov-on-Don. The Rostov main railway station is located at ½ Privokzalnaya Ploschad (Привокзальная пл., ½), Rostov-on-Don 244001 (Ростов-на-Дону 244001).
Getting to the stadium
Stadium Olimp-2(Стадион Олимп 2)
Prospekt Sholokhova 33, (проспект Шолохова 33)
Rostov-on-Don (Ростов-на-Дону)
Tel: + 7 (863) 251 62 97/ +7 (863) 251 78 65
The stadium is approximately 4 km from the city centre (10-20 min drive), and 4 km from the airport (10-15 min drive).
From the airport: buses 7а, 7, 95; minibuses 93, 52, 7а, 126, 85, 88, 95; trolleybus 9.
From the City Center: buses 3, 3а, 7, 7а, 67, 95, 98; trolleybuses 1, 5, 9; minibuses 3, 7а, 29, 40, 40а, 52, 67, 67a, 88, 95, 126.
Free parking is available across from the stadium near Progress Shopping Mall or further along Prospekt Sholokhova near Eldorado supermarket.
Official looking taxis may not be licensed. Don't share a taxi with strangers or flag down what may appear to be an official taxi. Where possible ask your hotel to get a taxi for you, ask for a telephone number of a reputable taxi company, or use an established company. You should agree the fare before getting into the taxi.
Manchester United will be providing coaches for its fans to take them from the city centre to and from the ground. The coaches will leave from Theatre Square (Театральная площадь) in the city centre. The square is on the main city boulevard with a large column, telecoms mast and 'Big Wheel' attraction. The coaches will leave promptly at 1930hrs to arrive at the stadium at least 1 hour ahead of kick off but fans should liaise with the club to obtain confirmation of departure time.
At the match
Manchester United fans will be in North Stand block N7. Official coaches will take fans to the nearest entrance to the stadium. Fans can expect to be searched by police at the perimeter entrance to the stadium, and then again when entering the ground.
In addition to items which would usually be prohibited in the UK, the following restrictions will apply at the stadium: large amounts of loose change and lighters may be confiscated and are unlikely to be returned; no bottles or cans are allowed in the ground and alcohol is banned within the stadium.
Official buses will be provided to take Man United fans back to the City Centre after the match. Fans should obtain confirmation of the place and departure time from the club.
In and around Rostov-on-Don
Rostov-on-Don is one of the eleven host cities for the FIFA 2018 World Cup.
As in any other city beware of pickpockets and bag snatchers at airports, railway stations, around the town centre and when using public transport – only carry what you need and leave spare cash and valuables in hotel safety deposits.
As a general rule, Man United advise fans not to wear football shirts or congregate in large groups. The consumption of alcohol on the street is not allowed.
Contact the British Embassy in Moscow
British Embassy Moscow
Smolenskaya Naberezhnaya 10
121099 Moscow Russia
Telephone number + 7 495 956 7200 (also for out of hours emergencies)
Office hours: Monday to Friday 9 am to 5pm
For more information, please visit British Embassy Moscow website
Emergency services number 112
Further information
https://www.visitrussia.org.uk - general tourist information
https://www.lonelyplanet.com/russia/moscow - general tourist information
https://www.moscow.info – general tourist information
https://www.gov.uk/foreign-travel-advice/russia - UK Foreign and Commonwealth Office travel advice for British nationals going to Russia
Published 7 March 2017