World news story
Champions League Travel Advice: PFC CSKA Moscow v Manchester United
Travel advice for Manchester United fans travelling to Russia for the PFC CSKA Moscow v Manchester United match on Wednesday 27 September.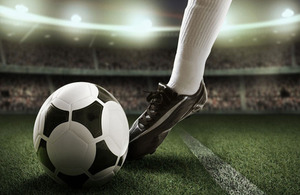 Date: Wednesday 27 September 2017
Venue: Arena CSKA, 3rd Peschanaya Street 2, building 18, Moscow 125252.
Kick off time: 9:45 pm local time; 7:45 pm UK time
As well as this advice, check out the travel advice for Russia.
Passport and visas
You'll need a visa to enter the Russian Federation – make sure you apply for the correct type and duration of visa. For further information, see the Russian Embassy website and the website of VFS Global who manage Russian visa applications on behalf of the Embassy.
Before you travel to Russia make sure you're aware of the terms and conditions attached to your visa for both entry and exit. If you arrive at an airport with an expired visa, you won't be allowed to depart. Overstaying your visa can result in a delay to your departure from Russia, fines, court hearings, and possible deportation and a ban from entering Russia in the future. If you need an extension, you should arrange this before your visa expires.
Your passport should be valid for a minimum period of 6 months after the expiry date of your visa. If you're travelling on a British passport issued since January 2017, make sure you've signed it before you travel. Some British travellers who have arrived at the Russian border with an unsigned passport have been denied entry into Russia.
Take out travel insurance for your trip, even if you are only going for one night – it could save you a lot of money if you get into difficulties. Your European Health Insurance Card (EHIC) is not valid in Russia.
You must carry ID with you at all times. Take a photocopy of your passport and visa, and leave this in your hotel room.
All foreign nationals entering Russia must sign a migration card, which is produced at passport control in the airports. The card is in two identical parts. One part will be retained by the Immigration Officer on arrival. You should keep the other part with your passport; you will need it when you leave Russia.
Do not lose your passport whilst you are in Russia. If you lose your passport, you'll need to get an Emergency Travel Document from the British Embassy in Moscow between 9am and 5pm. You'll need to supply a passport photo, flight reservation details and a police report. The fee for an Emergency Travel Document is 100 GBP payable by Visa or MasterCard. You will also need to obtain a replacement visa – the British Embassy will advise on the process, but it will take time and is not a straightforward process.
The British Embassy will have a local presence at the match. If you need to contact the British Embassy during your time in Moscow:
Smolenskaya Naberezhnaya 10
121099 Moscow
Russia
Telephone number: + 7 495 956 7200 (follow auto recorded prompts to Consular Services – this is also the number for out-of-hours emergencies)
Office hours: Monday to Friday 9am – 5pm.
Getting to Moscow from the UK
There are no direct flights between Manchester and Moscow, but it is possible to get a direct flight to Moscow from London. If you are flying with British Airways, fans will arrive at Moscow Domodedovo airport. Fans flying Aeroflot will arrive at Moscow Shermetyevo airport.
ATM and cash exchange offices are available at both airports. The current GBP rate is about 77 RUR. If you bring cash, it is recommended to take USD or EUR, as pounds are rarely used in Russia.
DME is approximately 46km from the city centre, and SVO is 34km from the city center.
The fastest way to get to the city centre from the airport is by Aeroexpress train, which runs from either airport every half an hour. Aeroexpress trains from DME arrive at Paveletskaya metro station. Aeroexpress trains from SVO arrive at Belorusskaya metro station. A one way Aeroexpress ticket costs 500 rubles (approximately £7). Return tickets are valid for 30 days and cost 1000 rubles (approximately £14). Further details can be found at aeroexpress websitel
You can book a taxi from official taxi stands at both airports. They will be clearly advertised and run by popular Taxi Apps such as Uber, Gett, or Yandex. Official looking taxis can be unlicensed. It is not advisable to share a taxi with strangers or flag down what may appear to be an official taxi. At popular locations such as airports, you are likely to be approached by unofficial taxi drivers on arrival. You should not use these as many are unlicensed. Allow time for heavy traffic in Moscow.
Travel on the underground or Metro system is quick, cheap, and reliable. A ticket or travel card must be purchased from a ticket machine/office, located in any station foyer. The cost of a single journey is 55 roubles (approximately 70p).
Getting to the stadium
The stadium is approximately 13km north-west of the city centre. You should leave yourself plenty of time to get to the stadium, particularly if you are travelling by taxi.
Manchester United have arranged, via Aeroflot, for buses to be available for official Manchester United fans to travel to and from the stadium on the day of the game. Supporters will need to show their match ticket in order to travel. The details of pick up points and timings have been communicated directly by the Club to its fans. The Club have advised as a precaution not to wear Manchester United colours when in Moscow.
If you're making your own way to the stadium, the easiest and most efficient way to travel around Moscow is to use the underground or metro system. All metro stations are marked with a big red "M" letter. However, there is no metro station in the proximity of Arena CSKA. The nearest station for the stadium is (Полежаевская) Polezhaevskaya on the purple line of the Moscow Metro (No. 7) and it is within 25 min walk (14 min bus ride, route 43 or 65) to the stadium. To travel by metro, you must buy a ticket or travel card from a ticket machine/office found in any station foyer. The cost of a two-way ticket is 110 RUR (approx. £1.50). You can also buy and top-up your Troika travel card, the Russian equivalent of an Oyster Card.
You may get to the stadium by taxi. Where possible ask your hotel to get a taxi for you, ask for a telephone number of a reputable taxi company, or use an established company. You should agree the fare before getting into the taxi.
At the match
Manchester United fans have been allocated seats in the upper tier of the S Stand located behind one of the goals. This section of the stadium is secured from home fans by a reinforced fence line.
The stadium will open the turnstiles at 2 hours before kick-off. Kick-off is at 9:45pm local time, so turnstiles will open at 7:45pm.
All fans will be subject to security checks and are asked to cooperate with the searchers. All flags (regardless of size) need to be pre-registered with CSKA Moscow in order to be allowed inside the stadium.
Manchester United through Aeroflot will operate a bus service to get fans to and from the stadium. The buses will drop off directly outside an access/egress ramp to the away section. Ticket checks and searches will be in operation at the top of the ramp, where there are 10 entrance lanes. Once past this point, you'll enter the stadium via four full height electronic turn styles.
English speaking stewards will be working with Manchester United and stadium announcements will be made in English.
Food and drinks can be purchased at the stadium. As per all UEFA games, no alcohol will be sold. Any supporter who arrives at the stadium drunk will be refused entry.
The police have advised that away fans will be subject to a hold back for 15-20 min at the end of the game to allow home fans to depart. Once the game has finished, official buses will take supporters back to Moscow city centre. The post match pick up point will be communicated by the Club.
In addition to items which would usually be prohibited in the UK, the following restrictions will apply at the stadium: large bags are not welcome, as this slows down the security search; amounts of loose change and lighters may be confiscated and are unlikely to be returned; no bottles or cans are allowed in the ground and alcohol is banned within the stadium; flags and banners without poles are allowed subject to size; musical instruments are normally permitted. Fans caught trying to take pyrotechnics into the stadium will be arrested.
If you're making your own way back to the city centre, the Metro normally runs until 1am. After 1am, you're strongly advised to use a reputable taxi company (Yandex, Uber, Gett).
Tips
As in any other city beware of pickpockets and bag snatchers at airports, railway stations, around the town centre and when using public transport – only carry what you need and leave spare cash and valuables in hotel safety deposits. The centre of Moscow has lots of bars and restaurants, many of whom will have English speaking staff. Typically, younger Russians are more likely to be fluent in English.
Drink spiking does happen and can lead to robbery, violence, and/or abuse. Unconscious victims can be left outside, which can be life threatening in the winter months. Buy your own drinks and keep sight of them at all times.
Don't become involved with drugs. You can expect a long sentence for possession of even small quantities of drugs, regardless of whether they are "hard" or "soft."
Most major high street banks and currency providers in the UK can pre-order Roubles (Russian currency). If you plan to buy roubles in Russia, you should take US dollars or Euros to exchange. Only change money at banks, hotels, and airport exchanges bureaus. It is an offence to change money from street traders.
Most hotels, restaurants, and larger shops accept credit cards. There are ATMs in most major cities. Consider informing your bank before you travel to Russia to avoid having a temporary stop on your card.
Contact the British Embassy in Moscow
British Embassy Moscow
Smolenskaya Naberezhnaya 10
121099 Moscow Russia
Telephone number + 7 495 956 7200 (also for out of hours emergencies)
Office hours: Monday to Friday 9 am to 5pm
For more information, please visit British Embassy Moscow website
Emergency services number 112
Further information
https://www.gov.uk/foreign-travel-advice/russia - UK Foreign and Commonwealth Office travel advice for British nationals going to Russia
https://www.gov.uk/world/russia - British Embassy Moscow website
https://www.visitrussia.org.uk - general tourist information
https://www.lonelyplanet.com/russia/moscow - general tourist information
Published 22 September 2017