World news story
Champions League Travel Advice: CSKA Moscow v Tottenham Hotspur
Travel advice for Tottenham fans travelling to Moscow for the CSKA Moscow v Tottenham match on Tuesday 27 September.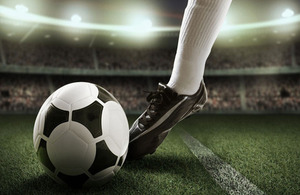 Advice for fans travelling to Russia for Tottenham's match with CSKA Moscow on 27 September
Date: Tuesday 27 September
Venue: Arena CSKA/ Арена ЦСКА
Kick off time: 9.45pm (local time)
As well as this advice, check out the travel advice for Russia.
Passport and visas
You'll need a visa to enter the Russian Federation – make sure you apply for the correct type and duration of visa. For further information, see the Russian Embassy website and the website of VFS Global who manage Russian visa applications on behalf of the Embassy.
Before you travel to Russia make sure that you are aware of the terms and conditions attached to your visa for both entry and exit. Overstaying your visa can result in a delay to your departure from Russia, fines, court hearings, and possible deportation. If you need an extension, you should arrange this before your visa expires
Your passport should be valid for a minimum period of 6 months after the expiry date of your visa
Your European Health Insurance Card (EHIC) isn't valid in Russian Federation, so travel insurance is essential, even if you are only going for one night – it could save you a lot of money if you get into difficulties.
You must carry ID with you at all times – you'll need to carry your passport to the match to gain entry to the stadium. Take a photocopy of your passport and visa, and leave this in the safe in your hotel room.
All foreign nationals entering Russia must sign a migration card, which is produced electronically at passport control in the major airports. The card is in two identical parts. One part will be retained by the Immigration Officer on arrival. You should keep the other part with your passport; you'll need it when you leave Russia.
If you lose your passport, you'll need to get an Emergency Travel Document from the British Embassy in Moscow between 9am – 5pm Monday to Friday. You'll need to supply a passport photo, flight reservation details and a police report (if your passport is stolen). The fee for an Emergency Travel Document is £100.
Getting to centre of Moscow from the airport
The Aeroexpress train runs from all three of Moscow's airports to the centre of the city. You could use this as a convenient form of transport into Moscow. The Aeroexpress is clearly signposted in airport terminals and tickets are available from self service ticket machines in English. There's no need to pre-book tickets. The trains leave every 30 minutes or so, and the journey takes 45 minutes. The website and timetable in English can be found here.
If you're flying British Airways, you'll land at Domodedovo airport. The Aeroexpress will take you to Pavletskiy station. From here, the dark green metro line 2 takes you to the centre of town.
If you're flying Aeroflot or Air Baltic, you'll arrive at Sheremetyevo airport. The Aeroexpress will take you to Belorusskiy station, from which you should take the dark green line 2 to the centre.
Getting to the stadium
The easiest way to get to the stadium is by Metro. From Central Moscow take line 2 (Zamokvoretskaya / Замоскворецкая) coloured dark green on the map to station Sokol (Сокол). The stadium is a 15 minute walk from there.
The Moscow Metro operates from around 5:30am until 1am every day.
Official looking taxis can be unlicensed. Don't share a taxi with strangers or flag down what may appear to be an official taxi. Where possible ask your hotel to get a taxi for you, or ask for a telephone number of a reputable taxi company. You should agree the fare before getting into the taxi.
At the match
Tottenham fans are seated in sections 515 and 516 in the upper tier at the west end of the South Stand and you should enter through gate S. A ramp from the road leads up to Gate S, which is located at the south end of the stadium. Having passed through Gate S, you turn left and walk along an enclosed concourse to 2 sets of turnstiles for sections 515 and 516. Tickets for these sections will only be sold to Tottenham. There are dedicated toilet and refreshment facilities for away supporters.
Tottenham is putting in place a ticketing voucher system. The club is issuing a letter of confirmation that the holder has a ticket to collect on arrival at the stadium. You'll need to show this together with your passport to gain access.
Access to the stadium can be slow – there will be body searches at the entrance to the turnstile, and the Metro is likely to be busy. You should get to the stadium early – the doors will open from 7.45 pm local time. In addition to items which would usually be prohibited in the UK, the following restrictions will apply at the stadium: large amounts of loose change and lighters may be confiscated and are unlikely to be returned; no bottles or cans are allowed in the ground and alcohol is banned within the stadium; flags and banners without poles are allowed subject to size; musical instruments are normally permitted.
Visiting supporters will be kept behind for around 20 minutes after the match to allow the home fans to leave. Those fans wishing to leave before the final whistle should be allowed to do so.
A dedicated disabled section will be available for Tottenham supporters.
Tips
As in any other city beware of pickpockets and bag snatchers at airports, railway stations, around the town centre and when using public transport – only carry what you need and leave spare cash and valuables in hotel safety deposits.
As a general rule, avoid wearing club colours or displaying banners in and around the city. Banners at the match are welcome.
Contact the British Embassy in Moscow
British Embassy Moscow
Smolenskaya Naberezhnaya 10
121099 Moscow Russia
Telephone number + 7 495 956 7200 (also for out of hours emergencies)
Office hours: Monday to Friday 9 am to 5pm
For more information, please visit British Embassy Moscow website
Emergency services number 112
Further information
https://www.visitrussia.org.uk - General tourist information
https://www.lonelyplanet.com/russia/moscow - general tourist information
https://www.moscow.info – general tourist information
https://www.gov.uk/foreign-travel-advice/russia - UK Foreign and Commonwealth Office travel advice for British nationals going to Russia
https://www.news.metro.ru/useeng.html - information on how to use the Moscow Metro
http://en.pfc-cska.com - English language version of CSKA Moscow website
Document information
Published: 22 September 2016