Case study
Tom: Being coached by professional boxers really inspired me
From:

Part of:

Published:

12 December 2013
Coldwell Boxing and Life Skills deliver training and qualifications to disadvantaged young people and helped turn Tom's life around.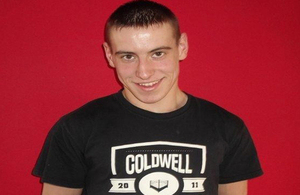 Tom was just 14 when he began to hang around with older friends, truanting from school, taking drugs and drinking heavily, sometimes up to 3 litres of cider a day.
It was all a big blur, I didn't know what day it was.
His family also suffered, as Tom would become violent at home and fight with his dad, his mum would always be crying and Tom was left feeling guilty.
When Tom was 17 he and his friends were involved in a stabbing for which Tom received a custodial sentence in a Young Offenders Institution. In the period between his arrest and sentencing, Tom was referred by the Youth Offending Team via Connexions to Coldwell Boxing who work in partnership with Life Skills to deliver training and qualifications to disadvantaged young people.
I was about to give up and then when I joined Coldwell it all changed. They got me into a routine. I was being coached by professional boxers which really inspired me, and the support I got from everyone there helped me to think positively.
The encouragement he received was just the first step for Tom to get his life off the ropes.
I'd forgotten how much I loved sport when I was younger, and that I still love it now. When I started exercising again I cut my drinking down, and that's when my mum and dad started really supporting me.
Ewan Metcalf, who works for Life Skills and Coldwell Boxing, explains the unique approach that they offer:
We use boxing to deliver an education programme. Boxing helps to build self-esteem and confidence, provides discipline and motivation, and requires commitment – really important life skills. It also encourages people to become healthier, to think about what they put inside them, and how they spend their free time.
By working in partnership with Coldwell Boxing, Life Skills are able to make their education package more attractive to a group of young people who might not otherwise access their services. For all young people to access the boxing facilities, enrolment and completion of courses in English, maths, employability and information and communications technology are mandatory. However, the curriculum delivered by Life Skills centres around the world of boxing.
Coldwell and Life Skills working in partnership ensures they have support on the quality and depth of the training they provide. A lot of the young people learn by stealth, the practical lessons they learn in the gym are immediately backed up by learning in the classroom and that works both ways. They use boxing as subject matter for learning, but also as an incentive for work in the classroom.
This practical application of theory allows young people to gain basic qualifications progressing through to qualifications in sports coaching. Life Skills and Coldwell Boxing also work in partnership with other organisations such as local police community support officers, sexual health professionals, and community drugs teams to provide extra sessions on issues that can create barriers for young people.
Ewan says:
We call it enrichment, but it's vital – a lot of people we work with come from fractured backgrounds.
It doesn't just stop at education and training either, Coldwell Boxing have a practice of contacting parents to praise the efforts of their son or daughter.
Often parents only get a call when their kids have been kicked out of school or arrested, which must be quite demoralising as a parent. To receive praise about their child really helps change their relationship with them, so the family situation improves, the parents begin to have bigger aspirations for their child.
This approach has seen many of the young people progress onto further education and employment.
After Tom was offered an apprenticeship at Coldwell Boxing, he was sentenced to a term in a Young Offenders Institution. Having the apprenticeship to return to, in addition to his experience with Coldwell Boxing and Life Skills meant that he had something to look forward to once he had served his time. He also spent his time at the Institute productively; delivering presentations to young people in local schools about the consequences of risky behaviour, and coaching other inmates in the Institute's own gym.
Tom has absolutely repaid our investment and faith in him. Many people from disadvantaged backgrounds are grateful for the support and the opportunities they're given. They don't take what we do for granted, so they really apply themselves.
Tom has gained his Level 2 NVQ in Sports Coaching along with first aid training, safeguarding and football coaching, and now works for Coldwell Boxing as a paid apprentice:
I like seeing people improve, I want to help other people. I just think positively all the time. I'm really happy now I'm here. I want to be a personal trainer one day, Coldwell and Life Skills are putting me through the qualifications I need to achieve that. One day I'd like to have my own gym – I'm looking forward to a bright future.
Document information
Published: 12 December 2013