Case study
Stephen: Most of the time we were stuck inside the house.
From:

Part of:

Published:

12 November 2013
How George, who represents DWP in the Family and Parenting Team of Southampton City Council, helped Stephen with employment and benefit issues.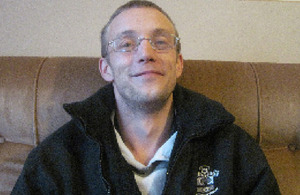 Things weren't looking great for Stephen who hadn't worked for 4 years and whose wife was suffering from depression.
Stephen was 25 when he developed serious health problems that meant he had to stop working. During his recovery his wife started work to support him and their 4 young children, but it wasn't long before they really started struggling.
At one point they only had £16 a week to live on, so most of the time they were stuck inside the house. Social services became concerned about the children, who were having a hard time at school and often skipping it altogether. Stephen and his partner felt they were at risk of losing them which was such a low point in their lives.
That's when Stephen was referred via a Common Assessment Framework (CAF) to Georgina (known as George) who represents DWP in the Family and Parenting Team of Southampton City Council. The specialist team are all located together allowing them to deliver or signpost families to intensive intervention to overcome barriers such as housing, domestic violence, education issues, health issues, and in George's case, employment and benefit issues.
Because we're a team that can help families with multiple barriers, we can offer a wrap-around service. So if they've got issues with debt, eviction or anti-social behaviour, the team will support them. I also ensure they are claiming all the benefits they should be and support them with building their confidence, motivation and job goals to move them closer towards the labour market.
One of the biggest problems facing Stephen and his family was their very low income. It turned out that they were claiming the wrong benefits and not receiving everything they were entitled to. Stephen and his partner went without meals to make sure the kids ate and they couldn't pay their bills which was a mounting problem. When Stephen met with George she put him in touch with Welfare Rights for support with rent and council tax arrears as well as intensive debt support.
As George, funded by DWP, is co-located between the local authority and DWP she has a greater awareness of the agencies she can refer families to.
Co-location is important because it means we can tackle the root problems of the family, not just one issue. So, in my wider team, we can go through the Jobcentre Flexible Support Fund and ask for specific courses to be run.
George is also able to refer families to additional tailored support available through the Community Budget, European Social Fund (ESF) and the troubled families budget.
But this isn't the only thing that made the difference for Stephen and his family. He received one-to-one support and staff would work with him and his family in their own home. The one-to-one support that he got helped get things moving in the right direction.
It wasn't until they got involved with George that things started moving forward. George pointed them in the right direction, before that they just didn't know what was available to them.
George finds that this personal support isn't just important to families so that they know about the support available. Once you've built up a relationship of trust with people they will engage and actually access the support that's being offered.
With their financial situation being addressed through support with benefits and organising arrangements with their creditors, Stephen was then encouraged to consider volunteering. He began by lending a hand at a local charity called SCRATCH who have a number of projects aimed at helping local people in poverty. He volunteered for a year, at first to improve his CV and then doing projects in the community.
George finds that others have found success similar to Stephen's.
We've been incredibly successful with the voluntary sector, moving families who weren't engaging at all to actually volunteer.
Stephen had reservations at first but after a couple of weeks his confidence really grew. With that and the support the family received he could finally see a light at the end of the tunnel.
Volunteering didn't just help Stephen but the rest of his family too, as his new routine brought a different attitude to everyone. This showed at home as he was out each day being active and doing something useful. His wife then started volunteering with Sure Start and her confidence also grew.
With both parents leaving the house each day the children began to develop a healthier routine, with both parents becoming positive role model's to their children. In fact, during Christmas 2011 Stephen was receiving donations from SCRATCH and during Christmas 2012 he was in full paid employment delivering donations to families in need.
It was upwards from there and now I'm employed by SCRATCH. Here we are, a couple of years down the line, so much has changed and things are looking good.

Without all this support, we'd be in the same position we were 2 years ago, if not worse off. The children's attendance at school has vastly improved, we're much happier as a family. We've got really high hopes for the future.
Document information
Published: 12 November 2013